YEOVIL NEWS: Town council hits back at former Mayor's resignation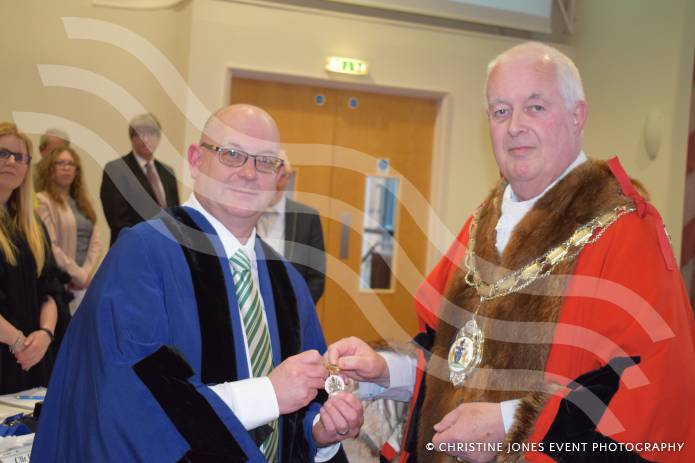 YEOVIL Town Council has reacted with disappointment to the news that former Mayor, Darren Shutler, has resigned from the authority.
The Yeovil Press announced on Friday (May 18, 2018) that Mr Shutler had tendered his resignation after receiving a letter from Yeovil Town Council that he should cease his fundraising for the charities he supported during his two-year term of office which finished earlier this month.
But a statement from Yeovil Town Council on Monday (May 21, 2018) reads: "Mr Shutler was invited to come to a meeting to discuss the potential conflict in charity work to that of the current Mayor (Cllr David Recardo), as well as some other issues.
"Mr Shutler stated that he was unable to make any meetings and specifically asked that the issues were put into a letter.
"The letter highlighted the concerns of some members, in particular that Mr Shutler may have misrepresented his position whilst booking future events, given those organisations the impression he would still be Mayor at the time of those events."
The statement adds: "The letter asked that two events be cancelled as it appeared they would be conflicting with the Mayor's events. At no point was he told that he could no longer fundraise for these two charities.
"Opportunity was given to Mr Shutler to respond to this letter. He decided to tender his resignation not allowing the opportunity to discuss the matter further which could have resulted in a positive resolution."
Mr Shutler raised a total of £63,328.34 for St Margaret's Somerset Hospice and the School in a Bag charity from 2016-18 and wanted to continue fundraising for them.
But he and his wife Anna were left stunned when they received a letter from Yeovil Town Council to say that the fundraising had to stop.
"Traditionally, once the Mayor's term of office ceases, all fundraising efforts for the Mayor's chosen charities also ceases – as to continue could potentially impinge on the fundraising efforts of the current Mayor," said the town council letter.
PHOTO - TOP: The outgoing Mayor, Darren Shutler, with the new Yeovil Mayor, Cllr David Recardo.
Tags:
News.