YEOVIL NEWS: Audience left inspired by Holocaust survivor's emotional story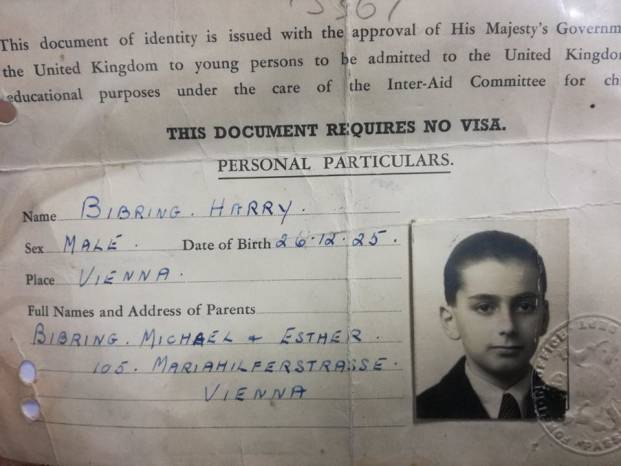 HOLOCAUST survivor Harry Bibring gave an audience at Preston School in Yeovil a thought-provoking insight into the horrors of the Nazi atrocities.
Mr Bibring, now aged 92, and his sister were among 10,000 predominantly Jewish children from Germany, Austria, Czechoslovakia and Poland who arrived in the UK during the nine months prior to the outbreak of the Second World War in an organised rescue effort.
It followed the Kristallnacht – Night of Broken Glass – where the Nazis carried out a programme of measures against Jews in Germany and Austria on November 10, 1938.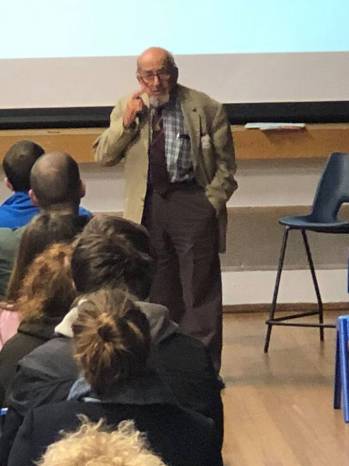 Mr Bibring's father's menswear business in Austria was looted and destroyed during Kristallnacht. His father was arrested and the rest of the family were forced to leave their flat and live in a house together with 50 other Jewish women and children.
PHOTO - TOP: A young Harry Bibring's papers when he came to England.
PHOTO - RIGHT: Harry Bibring at Preston School in Yeovil.
The family were allowed to return to their flat following the release of Mr Bibring's father, but they knew they had to leave Vienna as quickly as possible because of the dangers posed by the Nazis.
It was decided that Mr Bibring and his sister Gerta would leave for Britain on the Kindertransport and that their parents would meet up with them at a later date. That never happened.
Mr Bibring's father died of a heart attack in November 1940 and his mother was deported by the Nazis to the death camp at Sobibor in German-occupied Poland in 1942.
Mr Bibring continues to live in England and his testimony is featured on the Holocaust Educational Trust's interactive DVD teaching resource Recollections: Eyewitnesses Remember the Holocaust.
It was with his work with the Holocaust Educational Trust which brought him to Yeovil on Wednesday (January 31, 2018) where a packed audience of teaching staff, students and parents listened to his memories of those dark days of Hitler and his Nazi regime.
Preston School principal Gregg Morrison said: "It was a privilege for us to welcome Harry Bibring to our school and his testimony will remain a powerful reminder of the horrors so many experienced.
"We are grateful to the Holocaust Educational Trust for co-ordinating the visit and we hope that by hearing Harry's testimony, it will encourage our students to learn from the lessons of the Holocaust and make a positive difference in their own lives."
Chief executive of the Holocaust Educational Trust, Karen Pollock, added: "The Holocaust Educational Trust educates and engages students from across the UK, from all communities about the Holocaust and there can be no better way than through the first-hand testimony of a survivor.
"Harry's story is one of tremendous courage during horrific circumstances and by hearing his testimony, students will have the opportunity to learn where prejudice and racism can ultimately lead. 
"At the Trust, we impart the history of the Holocaust to young people, to ensure that we honour the memory of those whose lives were lost and take forward the lessons taught by those who survived."
One parent who listened to Mr Bibring said: "What can I say? Truly inspirational, very emotional and one can hardly begin to image what it must have been like. I'm so glad I went and listened to Mr Bibring."
PHOTOS: Courtesy of Preston School.
Tags:
News.