YEOVILTON LIFE: Wings parade for pilots and crewmen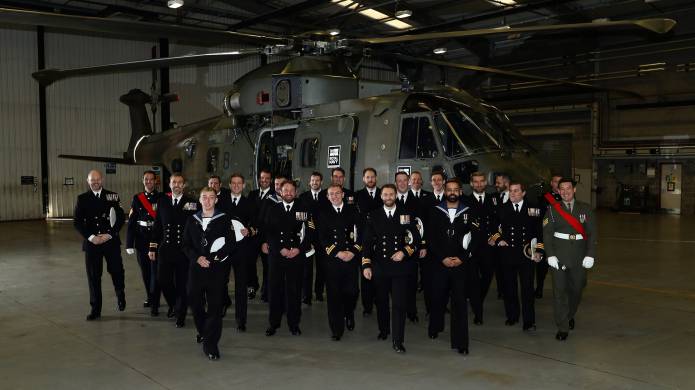 PILOTS and crewmen from the Commando Helicopter Force based at RNAS Yeovilton have been presented with their wings and certificates.
The 27 Commando Merlin Course presentation was held at Yeovilton on Friday, December 1, 2017, with the presenting officer being Rear Admiral P Halton, Commander Maritime Operations and Submarine Allied Naval Forces North.
The 846 Naval Air Squadron is also the Commando Helicopter Force's training squadron which trains new helicopter pilots or converts existing helicopter pilots to fly the Merlin helicopter in the Commando Helicopter Force.
It also trains existing Royal Navy and Royal Marines personnel to become aircrewmen in Merlin and Wildcat helicopters.
This event is the culmination of one such course with pilots and crewmen awarded their respective wings. Fifteen servicemen were recipients during the ceremony which was attended by dignitaries, colleagues, families and friends.
One person to receive his wings was Leading Hand Ben Fagan in the presence of his proud and distinguished uncle Chief Petty Officer John Fagan.
Ben initially joined the Army and back in 2011 he had a six-month tour in Afghanistan, but upon his return he spoke with his uncle, John Fagan, about their shared interest in helicopters.
The outcome was a fast moving scenario which saw Ben joining the Royal Navy on the May 11, 2015, exactly 39 years to the day when John joined the Royal Navy.
Following two-and-a-half years training Ben has passed out as a fully-fledged aircrewman in readiness to join 845 Naval Air Squadron.
At 58 years of age John "Fags" Fagan, Ben's uncle, is the Royal Navy's oldest and longest serving aircrewman and he is known throughout the Fleet Air Arm as the Father of the Branch.
PHOTO - TOP: On parade.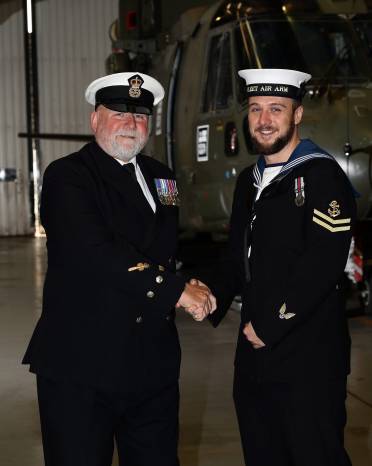 PHOTO - ABOVE: Chief Petty Officer John "Fags" Fagan congratulates his nephew Leading Hand Ben Fagan.
Tags:
News.