YEOVIL NEWS: Quilters have a heart for children in care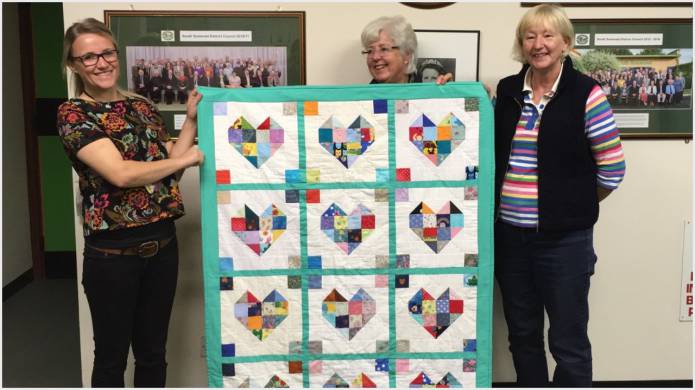 A YEOVIL Quilting Circle handed over a specially created a heart themed quilt for National Adoption Week and young children in care this week.
Somerset County Council launched a 'Have a Heart' campaign on October 16, 2017, to raise awareness of the number of children waiting to be adopted and Vivien Bateman, Barbie Dormer and Gill Westcott, from Project Linus UK, rose to the challenge.
They mobilised their Yeovil Quilting Circle and created a heart decorated quilt in response to the theme; plus many other quilts to be donated to children in care waiting to be adopted or fostered as part of the fostering for adoption scheme.
Vivien Bateman, from Project Linus, said: "We were really happy to support 'have a heart' and 'Adoption in Somerset'. It's a pleasure to make quilts for young children in care whilst raising awareness of the need for more adopters.
"Quilt-making is a labour of love and involves cutting and sewing many small squares together. We use mainly scraps of our own or donated fabric. The wadding is particularly problematic as it needs to be of a certain standard for warmth and washing durability, so we hold fundraising coffee mornings to help and always need donations."
Somerset County Council's children and families spokesman, Cllr Frances Nicholson, said: "We are very grateful for the hard work of Project Linus UK and offer our sincere thanks to them for rising so brilliantly to the 'Have a Heart' campaign challenge.
"The quilts will go to children in care of various ages, including young children with particular needs, and babies as part of our fostering for adoption scheme."
If you would like to know more about adopting a child, talk to the council's friendly team on 0800 587 9900 or come to an informal information evening.
Events are held all over the county, where friendly staff are on hand to answer any questions you may have.
For a full listing of events and the nearest one to you, check out: http://www.fosteradoptsomerset.org.uk/events/ .
Tags:
News.