YEOVIL NEWS: Humbling experience for School in a Bag workers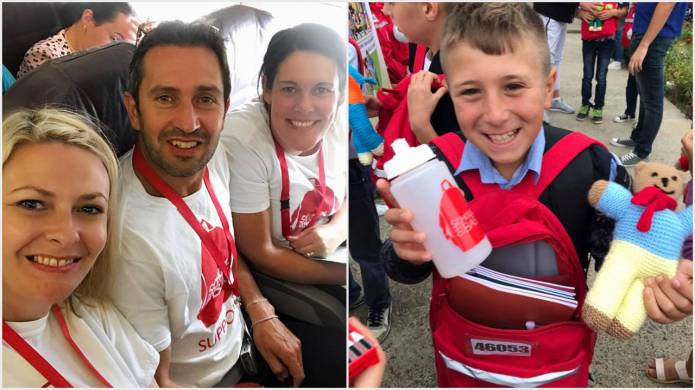 MEMBERS of a charity based near Yeovil have been left with memories that will last a lifetime after they travelled to Romania to see at first hand that the work they do at home makes such a big difference to the young lives they support abroad.
Chief executive of the School in a Bag charity, Luke Simon, travelled to Romania with fellow SIAB office staff Zoe Fox and Charlotte Pike to deliver a quantity of SchoolBags – packed with everyday school essentials such as books, pens and eating utensils children in the UK would take for granted – to poverty-stricken youngsters in the Eastern European country.
While Luke is no stranger to delivering the schoolbags to children, it was a "first" for Zoe and Charlotte who have played integral roles within the SIAB organisation for a number of years which is based at Chilthorne Domer.
They visited three schools in Romania and Zoe said they were overcome by the reaction they got from the children.
"I couldn't wait to experience the 'other side' of our whole School in a Bag work by seeing the end result and the look on the children's faces, and hear their chatter as they got given their SchoolBags," she said.
"We see plenty of images and some videos on a regular basis in the office of children receiving their nugget of gold in the form of a red SchoolBag, but what the images and footage doesn't give you, is the peripheral sights outside the camera lens; the sounds and the smells – all the things that really give you the overall experience," said Zoe.
She said that the children treated their visit as a "very special day" and that they were so excited to receive their SchoolBag.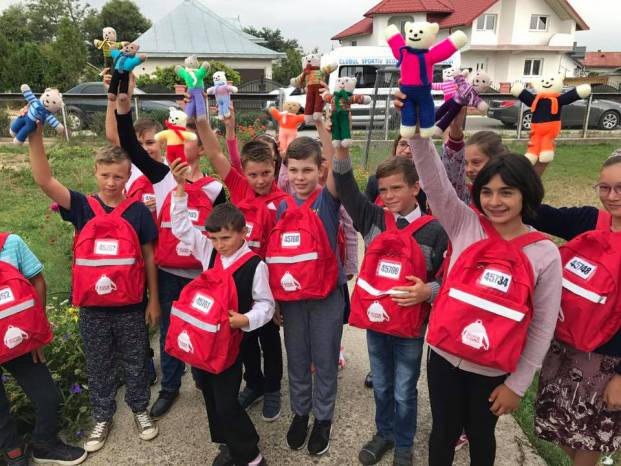 PHOTO - LEFT TOP: Luke Simon, chief executive of School in a Bag, with charity team members Charlotte Pike (left) and Zoe Fox.
PHOTO - RIGHT TOP: A Romanian lad can't stop smiling after getting his SchoolBag.
PHOTO - RIGHT: More Romanian children with their SchoolBags.
"There was a flurry of activity as the children came out class by class to receive their SchoolBag – some who couldn't wait to open theirs to see what was inside, and others who just looked so excited to get it, they almost forgot to look inside, or were waiting for instruction from their teacher to say they could all open them," said Zoe.
"They were so delighted to receive their SchoolBags and each of the classrooms we went into was alight with the sound of excited voices and gasps as they opened the SchoolBags up to see what was in them.
"What a thing to be a part of and to share with them – even though language was a barrier, there were plenty of smiles, 'wows' and gestures that we could all understand!
"They definitely humoured us with posing for photos and sensing that it was a special day for us too which was just brilliant."
Zoe said they worked on the four-day visit with the Te Aud Romania group which acts as the SIAB's charitable partner in Romania.
"We'd like to say a huge thank you to Te Aud Romania for the work they do as a partner for School in a Bag - working to find the numbers of children in each school and then co-ordinating the distributions," said Zoe.
"We'd also like to extend our thanks to the hospitality and organisation we had for our trip and how welcome we were made to feel in Romania.
"For a first experience of seeing the work we do, it was an amazing one and seeing the smiling faces of the children will stay with us forever."
The children were also given a teddy bear made by a dedicated team of volunteer knitters who support SIAB.
The SIAB was set-up as an initiative of the Piers Simon Appeal which was first formed following the horrific 2004 Boxing Day Asian Tsunami which claimed the lives of thousands of people including former Yeovil College student Piers Simon.
If you would like to get involved with fundraising for School in a Bag, then please get in touch via email at hello@schoolinabag.org or call the office on 01935-849160.
Tags:
News.