YEOVIL NEWS: Patients can enjoy artwork created by talented school children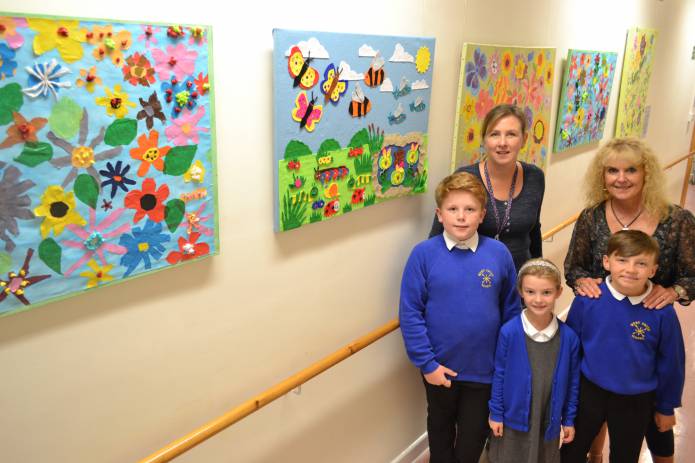 CHILDREN at West Coker Primary School have created a colourful exhibition to liven up the corridor to the frail older person's assessment service department of Yeovil Hospital.
During the summer term children aged between five and ten have worked with their teacher Cait Crisp to create a series of beautiful multi-media panels reflecting flowers and nature.
The children were taking part in their Community Caring sessions where the school has become involved in a variety of local initiative.
The hospital's arts co-ordinator Caroline Barnes visited the school to talk with the children about how art is used to enhance the healing environment.
Caroline said: "The children came up with a huge variety of responses as to how we could improve our hospital.
"They were fascinated by the idea of pictures and colours being able to help people, be that reducing anxiety or just putting a smile on someone's face."
The children decided to focus on the theme Outside Inside, which they thought would be positive and cheerful for patients, staff and visitors to the hospital and, working with their teacher, they were able to explore batik, stitching, paper collage and painting. Each picture is a collective creation with children of different ages working together to create some stunning work.
Teacher Cait Crisp added: "We have been proud and privileged to have been able to take an active role in making this beautiful art work for Yeovil Hospital and we hope they will be enjoyed and appreciated by all who see them. The children are really motivated by having 'real' projects to work on within the local community."
The exhibition is located near the Queensway Day Hospital in its community gallery on level two and will be on display for the next six months before moving to the children's ward on level 10.
If you are part of a community group who enjoys creativity and would like to present your work as part of an exhibition please contact Caroline Barnes. Email caroline.barnes@ydh.nhs.uk .
PHOTO – TOP: Pupils from West Coker Primary School enjoy seeing the artwork they helped to create. Ward Ten play leader Leanne Braund and teacher Cait Crisp are pictured with pupils Jay, Jessica and Joe.
Tags:
News.