SOUTH SOMERSET NEWS: Stuck toilet seat lad thanks rescuers with cakes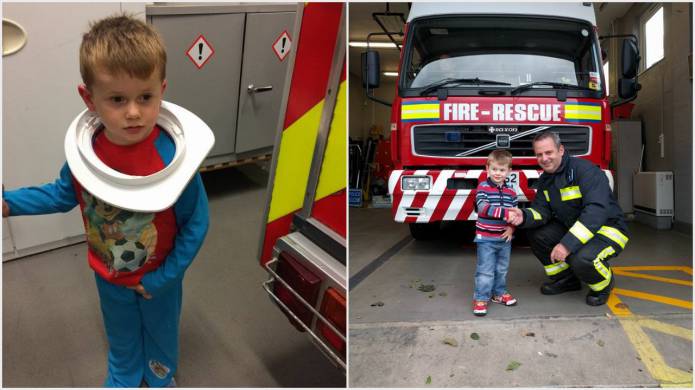 A LITTLE lad who had to go to his local fire station to get a toilet seat removed from around his neck has been back to thank the firefighters.
It was last Monday (July 31, 2017) when two-year-old Sam was taken to Somerton Fire Station by his dad with the unusual call for help.
The firefighters quickly got the toilet seat off and Sam was thankfully uninjured in his ordeal.
But Sam wanted to thank the firefighters for coming to his rescue.
A few days later Sam visited the fire station in Somerton during its weekly drill night to thank the firefighters for their help in removing the toilet seat.
A spokesman for Somerton Fire Station said: "Thanks for the cakes Sam!"
PHOTOS - TOP: Poor little Sam with the toilet seat stuck around his neck (left) and then a few days later thanking Somerton Fire Station for its help.
Tags:
News.