YEOVIL NEWS: A perfect send-off to legendary teacher Jeff Stone
MUCH-LOVED and much-respected Yeovil teacher Jeff Stone, who passed away suddenly earlier this month, was given a perfect send-off by hundreds of people at his funeral.
There was standing room only at St John's Church in the heart of Yeovil on Wednesday (May 17, 2017) as family, friends, teaching colleagues and students, both past and present, attended the service of celebration and thanksgiving for the life of Mr Stone who had taught at Preston School for an amazing 49 years.
People had started to gather at the church long before the 11.30am start and by the time the service began St John's was full – testimony to the strength of feeling towards the man who will always be referred to as a Preston School legend.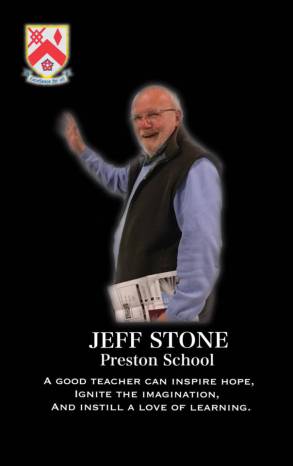 The service – led by Rev James Dudley Smith - was an uplifting occasion, albeit terribly sad at saying goodbye to someone people never really thought they would actually be saying goodbye to, and there were plenty of smiles and laughs in amongst the tears.
PHOTO - TOP: The packed St John's Church in Yeovil for the service of celebration and thanksgiving for the life of Jeff Stone. Photo courtesy of former Preston School student Rob Lester, of Yeovil.
PHOTO - RIGHT: This tribute was put together by former Preston School student Kevin Jones, now of Liverpool.
While his nearest and dearest knew Mr Stone as a truly kind and caring family man, they have taken great comfort from knowing that he had been an inspiration to so many people during their learning days at Preston School.
There were some wonderful "Memories of Jeff" read out during the service by representatives of Preston School staff and of former students.
Mr Stone had a unique teaching style that made him a unique teacher. His passion for history was effervescent and he would turn his classroom into a theatre of drama where his teaching brought the past to the present and he would have students immersed in his stories.
Away from school he was a keen amateur thespian having performed many times at the Swan Theatre in Yeovil and he used that with great aplomb in the classroom where his teaching would see him bellow like Brian Blessed in one sentence and then hushed like Richard Burton the next.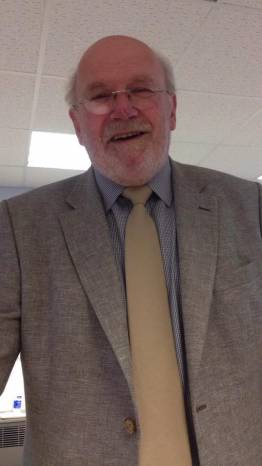 He had many quirks which made him so adored by students who never knew what might happen next in a Mr Stone lesson whether it be a hammer smashing against a filing cabinet, flying blackboard rubbers, sweets taken off a pupil, pencil cases being thrown out of windows or him spontaneously breaking out into song.
Friend and fellow history fan, Paul Murley, spoke during the service of their school trips to Europe and the First World War Battlefield and he aptly adapted the famous Robert Laurence Binyon poem For The Fallen in which he said of Mr Stone  - "He shall grow not old, as we that are left grow old; Age shall not weary him, nor the years condemn; At the going down of the sun and in the morning, We will remember him."
PHOTO - RIGHT: The never-to-be-forgotten Jeff Stone.
Preston School's senior choir – conducted by Gill Lock – beautifully sang Perfect Day and although the weather outside was far from perfect with persistent rain, St John's Church was providing a perfect theatre for people to say their goodbyes.
Nephew Simon Stone read some poems specifically chosen by Mr Stone, while Mr Stone's brother Ian read the eulogy.
Mr Stone was 70 when he died on May 1, 2017, which would have been his father's 100th birthday.
As his coffin was carried out of St John's in readiness for a final journey to Yeovil Crematorium for a short private family service, the congregation burst into applause.
Mr Stone will always be remembered for his big welcoming smile and he would – no doubt – have been smiling down on those who had come to pay their respects.
The service was more than just a celebration of Mr Stone's life – he had single-handedly brought Preston School together; generations of students and its teaching family of past and present united in respect.
Mr Stone will be deeply missed by his family and the corridors of Preston School will never reverberate to the sound of his unmistakable footsteps, his singing and hearty chat.
But Mr Stone's legacy will live on in everyone who had the privilege to meet him and he will always be regarded as the Godfather of Preston School.
RIP Mr Stone.
Tags:
News.