YEOVIL NEWS: Breast cancer unit appeal hits £2.4m – thanks to ladies that lunch!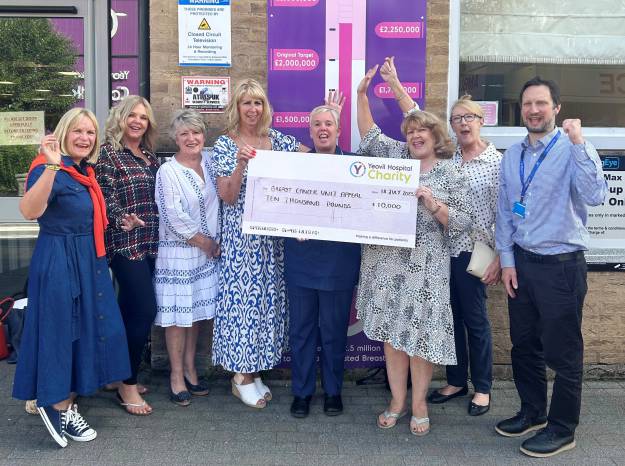 A COMMITTEE of eight women from Yeovil and the surrounding villages put on a glamorous charity event at the Lanes Hotel in West Coker and raised £10,000 for Yeovil Hospital Charity's Breast Cancer Unit Appeal.
The fundraising took the appeal total to over £2.4 million and the 'Ladies Lunch' event included a three-course meal, sparkling wine, entertainment, a raffle and a silent auction with a whole host of wonderful prizes. The event was hosted by Yeovil Lions and Options.
The group was supported by a range of local companies and was able to draw on the generosity of local businesses to make sure the event was a success.
Corporate sponsors included Bamfords, Hellier Group, Transport Systems, RES, PJ Print and Design, First Steps Day Nursery, Boon Brown and Smiths Construction. Support was also provided by Lloyds Bank in Yeovil and the Royal Oak pub.
The group was invited to the hospital to unveil the next milestone on the giant fundraising thermometer, which is now at the £2.4 million mark.
James Kirton, head of charity at Yeovil Hospital, said: "Our aim for the Breast Cancer Unit Appeal is to raise £2.5 million by the end of the year.
"This will give the NHS Trust the funds it needs to continue with the construction work, with the aim of completing it in the second half of 2024.
"Thanks to people like Sharon Smith and Julie Pilbeam and the rest of this committee, we are on track to make this happen and to give the people of South Somerset and Dorset a state-of-the-art breast unit with privacy and dignity at the heart of the design. Thank you to everyone that went along and also those that supported this wonderful group of women."
The women all have close friends and relatives who have been affected by breast cancer so were determined to raise as much as they could. A breast cancer patient attended the event to explain the importance of the new unit and what it will mean to patients.
PHOTO: Pictured (from left) are Debbie Wright, Lisa Knight, Myra Montague, Sharon Smith,breast care nurse Nia Dobner, Julie Pilbeam, Alison Jacobs and Yeovil Hospital's head of charity James Kirton.
Tags:
News.