YEOVIL AREA NEWS: Chinnock Hollow to remain closed to traffic after £2.7million repair price tag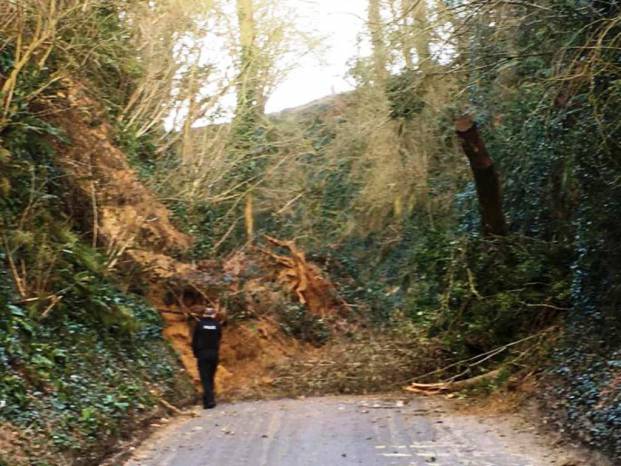 SOMERSET Council has confirmed that Chinnock Hollow near Yeovil will NOT reopen to traffic after an independent report outlined it could cost up to £2.7million to make it safe.
 The road, which links the villages of East Chinnock and Odcombe and had been used as a short-cut for motorists between the main A30 and Yeovil, has been closed since February 21, 2021, following a significant landslide involving 20 tonnes of rock and sand as well as a large tree.
The debris rolled down the side of the 12-metre wall of the hollow, burying part of the road below. This followed a less serious incident just a week before.
Due to the seriousness of the incident investigations began into the likely causes, actions needed to secure the road and potential hazards moving forward. 
In-depth engineering reports revealed the substantial risk of another landslide, potentially even larger in the same area, as well as the risk of other failures at different points along the road.
Last October a public meeting with the local communities was held to review the risk and potential options to make the road safe. It was agreed a final independent report was required to establish a more precise cost for a hybrid option involving clearance and some containment work alongside regular safety monitoring.
This option, which as well as clearing the debris, involves installing steel meshing to hold the steep sides of the hollow in place, would cost up to an estimated £2.7million to deliver. It is not possible to identify external funding for such a scheme at this point and the money is not available within current budgets.
Somerset Council's spokesman for transport and digital, Cllr Mike Rigby, said: "We understand people's concerns about an indefinite closure of Chinnock Hollow, but the reality is that there just isn't the available budget to consider this scheme.
"We cannot justify spending nearly £3 million when there are so many pressing and competing maintenance priorities across more than 4,100 miles of road in Somerset, and there is no available funding from Government.
"It's simply not possible to open the road and hope for the best when there is a substantial risk of a further significant land-slide. The council is liable for any resulting injury or fatality and must take every possible precaution to ensure the safety of the public."  
Cllr Rigby added: "The road must therefore remain closed until such time as funding can be identified to safely reopen it. We will continue to explore any potential avenues for funding." 
"We are liaising with the communities in the immediate area to listen to concerns people may have and we will be arranging a further engagement event to give people the chance to speak to our specialist team." 
Photo: Taken after the landslide in 2021. Picture courtesy of Martin Entwistle.
Tags:
News.