YEOVIL NEWS: Town council backs Ukrainian refugees with financial support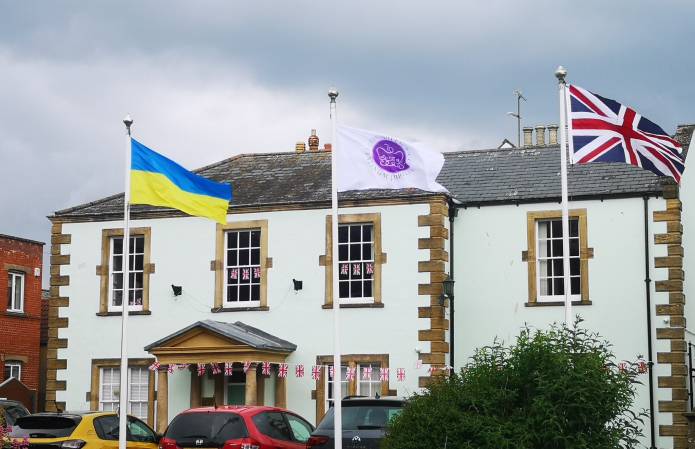 YEOVIL Town Council is to make a £5,000 donation to support the Ukrainian refugees who have arrived in Somerset.
Cllr Graham Oakes put forward a motion at the town council meeting held on July 6 that the authority support those Ukrainians who have fled their country because of the Russian invasion.
"The war in Ukraine has led to countless deaths and injuries," he said. "It forced millions of people to leave their homes and flee to neighbouring countries.
"A small number of refugees have arrived in Yeovil and they are welcome. This council will make a donation of £5,000 to help refugees from the Ukraine, here in Somerset to an appropriate body."
Cllr Oakes gave a passionate speech to his fellow councillors about the plight of the Ukraine people.
"The need for help is obvious for all to see," he said. "Why should we help? Because we can help and because we care - Yeovil is a caring town and we can help those who can't help themselves.
"This town council has got a good track record for helping – we've supported the Lord's Larder project; we've provided funding for IT equipment for local schoolchildren when they were working from home during the Covid-19 lockdown; we've backed the Citizens Advice Bureau and we're funding 24-7 public access defibrillators in the town."
Cllr Oakes added: "It's been suggested to me that what I'm suggesting is a waste of time because £5,000 is such a small amount of money; it works out at about 1p a household in Yeovil.
"But a lot of people in this town care about the people in Ukraine and Yeovil needs to play its part in welcoming Ukrainians to this area.
"We have to help and we have to act and show that we care."
Eighteen councillors voted in favour of Cllr Oakes' motion, while there were two abstentions and nobody opposed it.
It was announced on Monday, August 22, that the £5,000 grant would be given to the Somerset Supports Ukraine charity that helps displaced Ukrainians.
The charity's mission is to raise money to support the ongoing work of charities and other organisations in Somerset allowing them to increase their capacity and build on their experience.
Somerset Supports Ukraine believes that the best way to support the humanitarian tragedy in Ukraine is to enable these charities and other organisations to do more.
Tags:
News.