YEOVIL NEWS: Working hard to get the town covered by potentially lifesaving defibrillators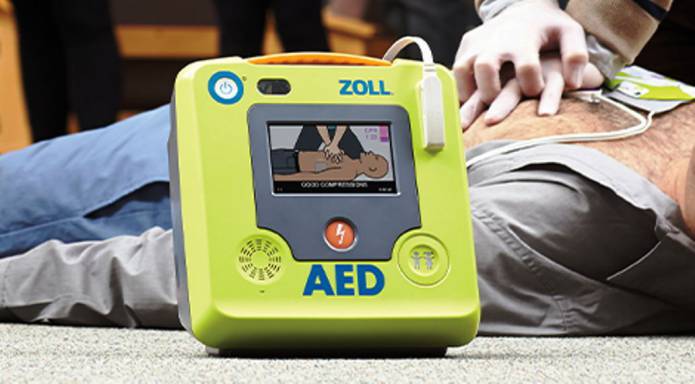 YEOVIL Town Council is getting more people interested in helping to expand the public defibrillator campaign in the area.
Town clerk Amanda Card told members of the council's buildings and civic matters committee on November 16 that they were still "working very hard on rolling out the defibs."
Defibrillators can be used on someone who has had a suspected cardiac arrest and can make a big difference before the arrival of paramedics. Statistics show that survival rates are much greater if a defib can be used as quickly as possible.
She told councillors that The Emporium store was fundraising to meet the 50 per cent cost of a defibrillator for Princes Street with the other half coming from the council.
The Nationwide Building Society in Middle Street, Yeovil, has already held a successful fundraising campaign to have one defibrillator fitted to the outside of its building which can be accessed 24-7.
Miss Card said that the extra money raised by the Nationwide Building Society would see it fund a second defibrillator with that one expected to be installed and unveiled at the Yeovil Country Park at Ninesprings "very soon."
Councillors were told that other potential locations for the 24-7 defibrillators – which can be used on someone who is experiencing a cardiac arrest – were Yeovil Cemetery on Preston Road and the St Andrew's Scout Hut in Preston Grove.
Decisions on these will be determined at a later date when more information is known.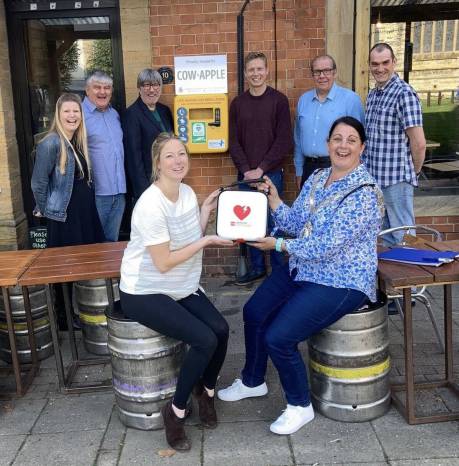 THE Cow and Apple restaurant in Yeovil recently officially unveiled its new public access 24-7 defibrillator machine which can be used by people on somebody who is having a cardiac arrest.
The Mayor of Yeovil, Cllr Evie Potts-Jones, went along to the restaurant which is situated opposite the St John's Church in the centre of town to give the team at the Cow and Apple her civic seal of support.
Cllr Potts-Jones was joined by members of Yeovil Town Council and town clerk Amanda Card who has been instrumental in ensuring that the defibrillator campaign has been a success.
Tags:
News.