YEOVILTON LIFE: Wildcat crew find drugs farms in forbidden zone of Montserrat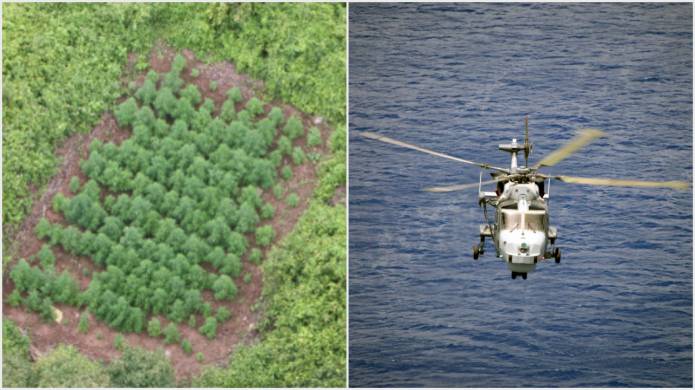 A HELICOPTER crew from RNAS Yeovilton has played its part in uncovering illegal drugs farms on the tiny Caribbean island of Montserrat.
The Wildcat Flight 216 from 815 Naval Air Squadron was taking part in a reconnaissance mission over the British overseas territory as part of an exercise to see how the naval aviators could help if the island suffered a similar natural disaster to 20 years ago when it was devastated after a volcano erupted.
But the helicopter crew also found nine suspected illegal drugs plantations in Motserrat's forbidden zone.
Half the island – just ten miles long and six across - was abandoned back in 1997 when the volcano erupted, mud and lava swallowed much of the Montserrat capital Plymouth and the Royal Navy was instrumental in helping to evacuate many islanders. Two decades later and the southern half of the territory remain off limits, even though the Soufrière Hills volcano has not erupted in four years.
Drug traffickers have ignored the warning signs and established illegal plantations in the forbidden zone, which was last surveyed from the air two years ago.
The visit of Naval support ship RFA Mounts Bay, conducting a patrol of UK territories in the region, allowed fresh surveys of Montserrat - both to look at the state of the southern half of the island and, with police embarked, to hunt for drugs plantations.
Lieutenant's Amy Gilmore, Oliver Bundock and Lee Colthart took Governor Elizabeth Carriere and some of her officials up in their Wildcat for an inspection of the island, and then did the same with local police, who guided the helicopter to suspected drug hotspots.
They found nine sites - including the largest plantation ever seen from the air, near Dick Hill in the still-inhabited part of the island - which will now be destroyed by the authorities.
It is the second important blow the Royal Navy's newest helicopter, Wildcat has helped deliver in the fight against trafficking in the Caribbean; last month the helicopter located nearly 20 illegal drugs farms in the British Virgin Islands.
The helicopter also scouted possible landing site and practised ferrying a tonne of water in a large cube slung beneath the Wildcat - all vital practice should RFA Mounts Bay and her Wildcat aircraft be called upon to assist islanders if there's another eruption, or a hurricane whips through Montserrat.
PHOTOS – TOP: A Wildcat helicopter has been conducting reconnaissance over Montserrat and found a number of drug plantations.
Tags:
News.