SCHOOL NEWS: Suspended in Memory - a field of poppies created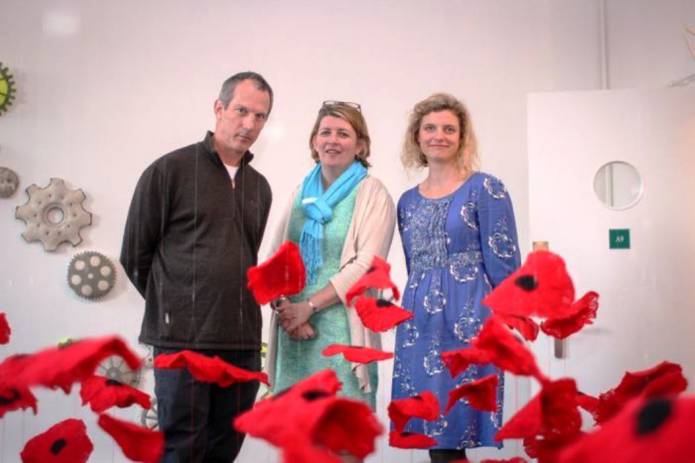 AN exhibition space at Bruton School for Girls has been transformed into a swaying 'field' of poppies for artist Lucy Lean's display as part of Somerset Art Works' Open Studio Weeks.
Entitled 'Suspended in Memory', the installation consists of crimson-coloured felt poppies suspended from the ceiling, creating a floating field of remembrance – to mark the 100th anniversary of the start of the First World War in 2014.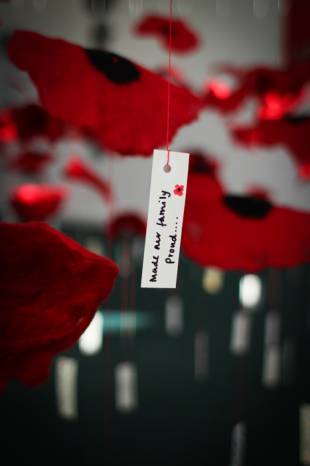 PHOTO – TOP: Bruton School for Girls headmistress Nicky Botterill (centre) with Richard Pomeroy, a director at Somerset Art Works, along with Beccy Swaine, also of Somerset Art Works. Photos: Nisha Haq.
Working under tuition of SAW artist-in-residence Lucy Lean and her assistant Cath Ingram, students at the girls' school created the feathery poppies and attached handwritten inscriptions to each poppy resulting in an extremely thought-provoking and moving exhibition.
At the Private View, held on Friday (September 26, 2014), headmistress Nicola Botterill said: "The effect this exhibition has on people is remarkable.
"For something that essentially is so simple, the effect is breathtaking and so moving. We could not be more pleased to work with SAW and are very proud that our girls have played a key part in this fabulous installation."
The exhibition will be open to the public on October 3-5, 2014, from 10am to 5pm and remains on display in school throughout the month of November to tie in with the school's commemorative events.
Tags:
News.