YEOVIL HISTORY FILES Part 1A: Yeovil war hero saved Britain from another Zulu disaster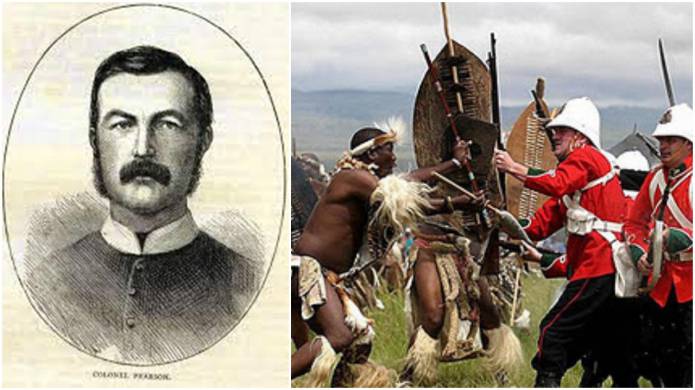 THE disastrous Battle of Isandlwana and the heroic defence of Rorke's Drift are the most memorable events of the Anglo-Zulu War of 1879 probably due to the fact that they were later depicted in big screen movies.
But alongside those two events came the somewhat little known Siege of Eshowe where British forces had to dig in and hold out for more than two months against Zulu warriors before being relieved.
Some historians have described the Siege of Eshowe as more important and impressive than the more celebrated Rorke's Drift – immortalised in the 1964 film Zulu starring Stanley Baker and Michael Caine – as it lasted 71 days rather than just 24 hours.
But the Siege of Eshowe seems to have been forgotten about over the annals of time although, locally, it should take on extra significance as the British forces were led by Yeovil man Colonel Charles Knight Pearson.
The Siege of Eshowe came as part of a three-pronged attack on the Zulu Impis of King Cetshwayo at Ulundi in early 1879.
While the British suffered a heavy defeat at the Battles of Isandlwana to the south-east of Inyanzani, the No 1 Column had repelled a Zulu advance and this engagement is believed to have included the first use of a Gatling gun by British forces.
No 1 Column was made up of regular and Natal Native Contingent soldiers led by Pearson.
He had suffered minimal losses and they advanced four miles further towards their objective of Eshowe which was originally planned to be a forward dept for a final march to Ulundi.
But these plans were thrown into doubt after the defeat at Isandlwana and Pearson was given notice from Lord Chelmsford to "consider all my instructions cancelled and act in whatever manner you think most desirable in the interests of the column under your command."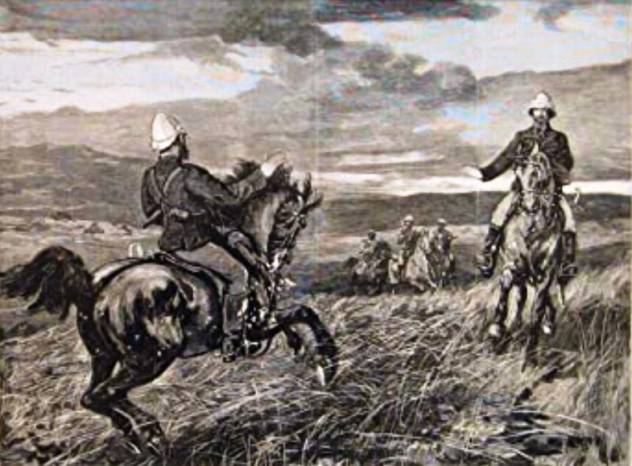 PHOTO - TOP: Colonel Charles Knight Pearson.
PHOTO - RIGHT: Colonel Charles Knight Pearson welcomes Lord Chelmsford at the relief of Siege of Eshowe in the Anglo-Zulu War of 1879.
Although details about the extent of the disaster at Isandlwana – subject of the 1979 film Zulu Dawn starring the likes of Peter O'Toole, Burt Lancaster and Bob Hoskins – were few and far between, Pearson realised that there was every likelihood that they would be cut off from the rest of the British forces.
They could either beat a retreat but face attack from the entire Zulu army out in the open or he could hold still at Eshowe.
Pearson made the decision to dig-in and he ordered his men to build heavy fortifications around the garrison in reparation for a siege – the Siege of Eshowe had begun.
Eshowe consisted of a deserted church, school and the house of a Norwegian missionary. The fort enclosing the mission was roughly rectangular with loop-holed walls 6f high and was surrounded by a broad ditch in which sharpened sticks were embedded.
A second line of defence, should the other rampart fall, was formed by laagering the wagons inside the walls.
The garrison numbered 1,300 soldiers and sailors, plus 400 wagoners.
Large numbers of Zulu warriors appeared on the hills surrounding Eshowe on February 2, 1879, but they soon retreated under the shelling from seven-pounder guns.
There was little Zulu attack during the following weeks apart from snipers taking pot shots and a few skirmishes between patrols.
Pearson led an attack on a kraal seven miles away at the beginning of March to keep his soldiers from idling, but the biggest threat to them was awful weather, sickness and rations running low. Twenty soldiers died as a result of illness.
It was not until April 3, 1879, that Lord Chelmsford and his column of around 5,500 soldiers relieved Pearson at Eshowe. The siege lasted for 71 days and Pearson was congratulated on the defence and to avoid another military embarrassment on the scale of Isandlwana.
Ironically the defences which Pearson's men had laboriously constructed at Eshowe to protect them for two months were deemed no longer necessary and they were demolished. A few days later as they made their way from Eshowe they could see in the distance that the Zulus had set it alight.
Tags:
News.