YEOVIL NEWS: The body of little Trevor Hoyle was never discovered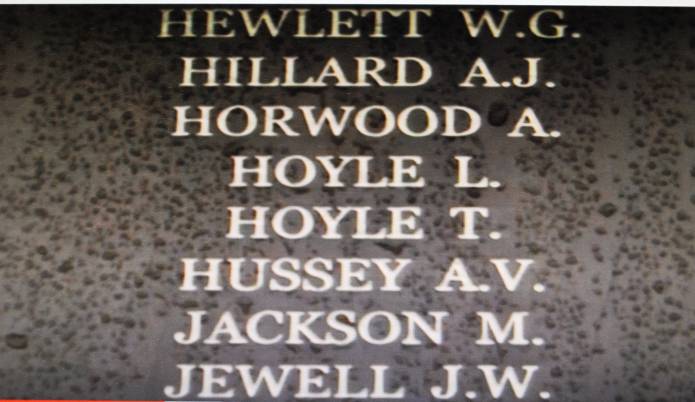 THE tragic story of five-year-old Yeovil lad Trevor Hoyle who was killed during an air raid on the town in the Second World War is detailed in Jack Sweet's new book.
The Yeovil Press mentioned young Trevor in last month's edition of the paper when we said his death was arguably one of the saddest stories from the town's war years.
It was on Wednesday, March 26, 1941, when Yeovil suffered its fifth air raid of the war and once again the Westland Aircraft Works was the target and is details in Jack's book entitled Yeovil in the Second World War.
Jack wrote: "At 11am on that Wednesday morning the air raid warning wailed across Yeovil and one hour later a lone Dornier bomber dived east to west over the town and dropped a stick of six high-explosive bombs.
"Four of the bombs fell on the nearby Westland housing estate and two fell in the works.
"When the all-clear sounded at 1pm, three men, five women and a five-year-old boy were dead and 36 civilians injured. Four of the dead were Westland employees. Eleven houses were destroyed and 132 were damaged."
Jack's grandparents – his mother's parents - lived in Westland Road and their house was damaged, but thankfully both were unhurt.
"But when my mother went to make certain they were both all right following the 'all clear' she recalled seeing a 'snow storm' of feathers from destroyed pillowcases and eiderdowns blowing about in the wind," wrote Jack.
"One of the tragedies of that awful day was that of five-year-old Trevor Hoyle, who with his mother Lily, was killed when their house at 23 Westland Terrace received a direct hit. The remains of Lily Hoyle were recovered, but there was no sign of Trevor.
"Enquiries revealed that Trevor had been collected from Huish Infants School at about 11.45am by a mother who said she had come to collect her own child and her friend, Mrs Hoyle, had asked her to collect Trevor as well.
"School rules only permitted a parent to collect a child from a primary school during the time an air raid warning was in force. However, Trevor was allowed to go with his mother's friend, but he was alone in Huish by a neighbour and by two air raid wardens in Westland Road.
"One of the wardens recalled seeing the little boy going down the cul-de-sac to his home shortly before the bombs fell."
Yeovil Press editor Steve Sowden said: "I went to Huish School myself as a child and I can vividly to this day remember the story of Trevor Hoyle being told to us by a wonderful teacher called Ken Davy.
"Mr Davy told us about the horror of that day in hushed tones and you could see the sadness welling in his eyes although it was around 40 years after Trevor's death, but then he revealed that they had been school friends. It was so sad – a story I've never forgotten, although it's now nearly 40 years since Mr Davy told us about it in class."
More LOCAL NEWS is available in the December 2020 edition of the Yeovil Press community newspaper which is available from the main Tesco Extra store in Yeovil town centre; Tesco Express stores on Abbey Manor and Cavalier Way in Yeovil; Morrisons supermarket store on Lysander Road, Yeovil; Iceland store in the Quedam Shopping Centre, Yeovil; Westlands Yeovil entertainment venue in Yeovil; Yeovil Library in King George Street, Yeovil; Palmer Garden Centre, Yeovil; and other outlets - the Co-op store on Stiby Road, Yeovil; the No5 Cafe Diner on the Lynx Trading Estate, Yeovil; the Co-op Garage Store on Sherborne Road, Yeovil; the shop along West Coker Road, Yeovil; West Coker Garage, West Coker; Montacute Service Station, Montacute; and the Co-op store in Stoke-sub-Hamdon, opposite Stanchester Academy.
PHOTO: The names of Trevor Hoyle and his mum, Lily Hoyle, on the war memorial in the Borough of Yeovil.
Tags:
News.