YEOVIL NEWS: Jack's personal look at Yeovil in the Second World War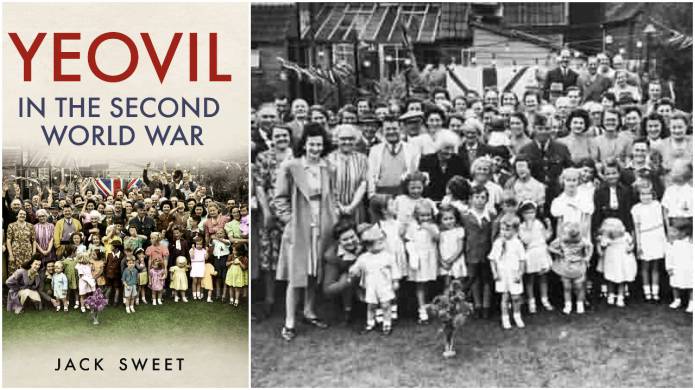 HISTORIAN and proud Yeovilian, Jack Sweet, has produced another fascinating book looking back at Yeovil in times of old – this time concentrating on the war years of 1939-45.
The book has been published by Fonthill Media and is entitled Yeovil in the Second World War and takes a personal look at the town during those six momentous years and during the time when Jack grew up.
Jack explores how people rallied to civil defence, welcomed thousands of young evacuees in both 1939 and 1944 and how people dealt with the many trials of a population facing and enduring total war – including how people sat for hours in uncomfortable air raid shelters hearing German bombers flying overhead and wondered whether the bombs would fall on Yeovil.
The book also relates how local people saved to buy a destroyer and a Spitfire, Saluted the Soldier, and heard the roar of aircraft engines from the Westland Aircraft works and watching Lysanders, Whirlwinds and Spitfires flying overhead.
Yeovil enjoyed the 'friendly invasion' of the US Army preparing for D-Day, seeing them go off to battle and return for the joy of VE and VJ-Days.
The Second World War meant that nobody in the town, young and old alike, escaped unaffected.
The book has 160-pages and includes 54 black and white photographs and is priced £16.
Jack has lived all his life in Yeovil, where he was born. After leaving the RAF in 1958 he worked for 34 years with Yeovil Borough Council and later the South Somerset District Council before taking early retirement.
His passion for history has inspired this prolific author to write numerous articles for local publications as well as many books including Shocking Somerset Murders of the Nineteenth Century and Shocking and Surprising Somerset Stories.
More LOCAL NEWS is available in the December 2020 edition of the Yeovil Press community newspaper which is available from the main Tesco Extra store in Yeovil town centre; Tesco Express stores on Abbey Manor and Cavalier Way in Yeovil; Morrisons supermarket store on Lysander Road, Yeovil; Iceland store in the Quedam Shopping Centre, Yeovil; Westlands Yeovil entertainment venue in Yeovil; Yeovil Library in King George Street, Yeovil; Palmer Garden Centre, Yeovil; and other outlets - the Co-op store on Stiby Road, Yeovil; the No5 Cafe Diner on the Lynx Trading Estate, Yeovil; the Co-op Garage Store on Sherborne Road, Yeovil; the shop along West Coker Road, Yeovil; West Coker Garage, West Coker; Montacute Service Station, Montacute; and the Co-op store in Stoke-sub-Hamdon, opposite Stanchester Academy.
PHOTO: The front cover of Yeovil in the Second World War with a photo of a VE Day party in Orchard Street, Yeovil, in May 1945.
Tags:
News.