YEOVIL NEWS: Mayor highlights late-night problems in Tabernacle Lane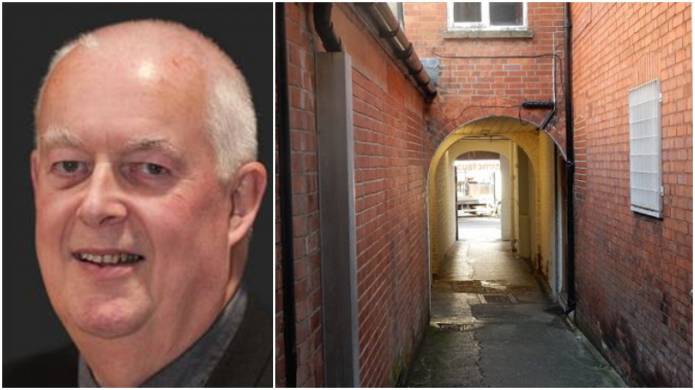 THE Mayor of Yeovil, Cllr David Recardo, has told police that an historic alleyway in the town centre is becoming a late-night drinking and drug-taking den.
Cllr Recardo said he was in the Borough area on the evening of Thursday, November 26, when he saw a number of people who were either drunk or on drugs.
"They were using the alleyway between the Borough and South Street as a shelter," he told members of Yeovil Town Council on December 1 via the Zoom conferencing technology.
"I was collecting a pizza from the new pizza restaurant in the Borough and these men were making a real nuisance of themselves.
"I hear this lane is becoming a regular meeting place for people who want to drink alcohol and do drugs."
Cllr Recardo said the alleyway would be well-known by many people who – back in the day – would use it to go to the old Carnaby's nightclub.
The alleyway the Mayor was referring to was the historic Tabernacle Lane – the earliest mention of which was found in a document dated 1386 in the Woborn Almshouses archives.
Chief Inspector Sharon Baker, of Yeovil Police, who was attending the council meeting, said she would pass this information onto her officers.
More LOCAL NEWS is available in the December 2020 edition of the Yeovil Press community newspaper which is available from the main Tesco Extra store in Yeovil town centre; Tesco Express stores on Abbey Manor and Cavalier Way in Yeovil; Morrisons supermarket store on Lysander Road, Yeovil; Iceland store in the Quedam Shopping Centre, Yeovil; Westlands Yeovil entertainment venue in Yeovil; Yeovil Library in King George Street, Yeovil; Palmer Garden Centre, Yeovil; and other outlets - the Co-op store on Stiby Road, Yeovil; the No5 Cafe Diner on the Lynx Trading Estate, Yeovil; the Co-op Garage Store on Sherborne Road, Yeovil; the shop along West Coker Road, Yeovil; West Coker Garage, West Coker; Montacute Service Station, Montacute; and the Co-op store in Stoke-sub-Hamdon, opposite Stanchester Academy.
PHOTO – TOP: The Mayor of Yeovil, Cllr David Recardo, and Tabernacle Lane in Yeovil town centre. The photo of Tabernacle Lane is courtesy of Bob Osborn and the excellent A to Z of Yeovil's History which can be found at www.yeovilhistory.info .
Tags:
News.