YEOVIL NEWS: Rugby club thanks family for lifesaving donation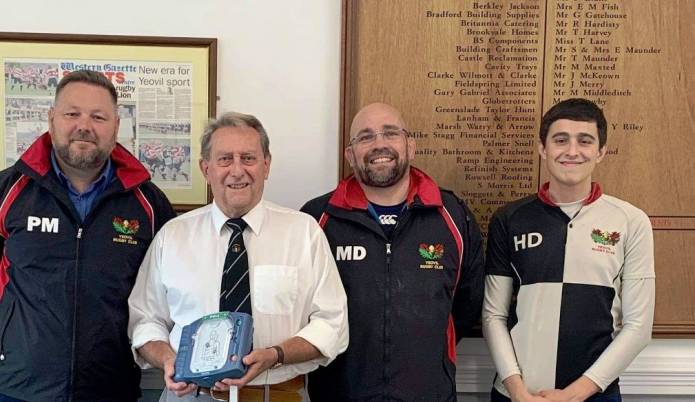 YEOVIL Rugby Club has been presented with a potentially lifesaving piece of equipment by members of a rugby-loving local family.
The Davidge family, long-standing supporters of community rugby in Yeovil, have donated a defibrillator to the club.
This amazing donation was made in memory of Darren 'Doc' Davidge. Doc played for Yeovil, Westland and Ivel Barbarians; the forerunners of the existing Yeovil Rugby Club.
Club chairman Paul McHugh thanked the family for donating such a valuable and lifesaving machine that will be available for use should any emergencies occur where players or members of the public suffer heart problems.
"Having the defibrillator is another fantastic addition to our club facilities and a very important piece of kit as well to have," said Mr McHugh.
"Not only would l like to thank the Davidge family for this donation, but also to members of Yeovil District Hospital's cardiac rehab team who have offered to donate their time to train club members into how to use the defib."
Mr McHugh added: "It is wonderful that Doc, who is still fondly missed by his family, friends, ex-work colleagues and rugby club members, can be remembered in this way.
"Doc sadly passed away on March 14, 1997, at the age of just 30 after a long illness. The donation of this defibrillator will help to keep Doc's memory alive at the club."
More news from Yeovil Rugby Club can be found on Pages 54-55 of this edition of the Yeovil Press community newspaper.
PHOTO: Yeovil Rugby Club chairman Paul McHugh (left) is pictured with (from left) Darren Davidge's father John Davidge, brother Mark Davidge and nephew Harry Davidge. Photo – submitted.
More news can be found in the October edition of the FREE Yeovil Press newspaper which is available from a number of outlets in and around the town including the main Tesco store, Morrisons, Yeovil Library, Palmers Garden Centre, the Iceland store in the Quedam, and the Westlands Yeovil entertainment venue.
Tags:
News.