YEOVIL NEWS: Perfect gift! 100 pints for a 100-year-old birthday boy!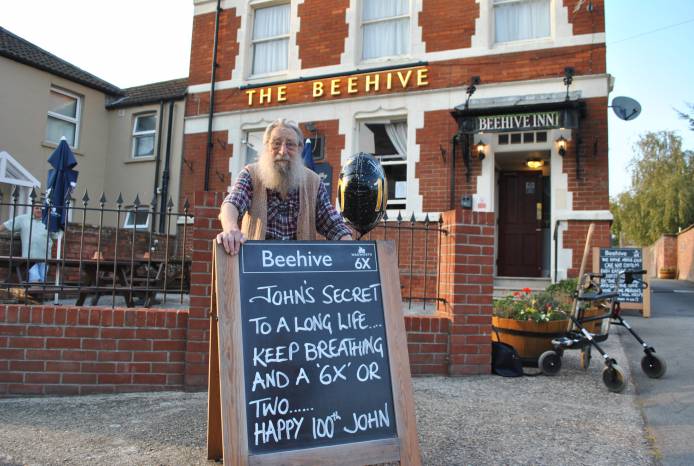 CENTENARIAN John Palmer received the perfect thirst-quenching treat to celebrate his 100th birthday at his local pub in Yeovil - a gift of 100 pints of his favourite tipple.
John, a regular at the Beehive pub in Huish, was presented with the surprise by licensees Ann Ford and Kev Berkley on his birthday on September 16.
Just to clarify – they did not line-up 100 pints of his favourite 6X real ale on the bar ready for him to drink that evening; but they have provided him with a special voucher containing 100 pint glass graphics which will be marked off individually every time they serve him a drink.
The gift was provided by Ann and Kev and the Wadworth brewery and was very well received by John who toasted his big day with a small get-together – obviously observing the social distancing regulations – at his favourite pub.
Kev said: "He's a real character and we felt it only right that we marked the occasion – it's not often one of your regulars' turns 100.
"He's bright as a button and can provide many an interesting anecdote about the pub and its history."
Kev added: "He pops in most evenings during the week for a couple of pints – it clearly hasn't done him any harm!"
Other gifts included an engraved 6X glass, some books and £200 donated by Beehive customers as a refund for his TV licence.
Ann said: "Obviously the Covid-19 restrictions meant we couldn't celebrate John's big day as we would really have wanted; but nevertheless we hope he enjoyed his day and many thanks to everyone who came along to wish him best wishes. I think he really appreciated it."
John showed off his special birthday card he received from Her Majesty the Queen, while there was a novelty birthday cake depicting the hit Frozen film musical. Apparently John had recently found a Frozen toy discarded on the ground and had taken an interest in the movie ever since – who says you can't stay young even when 100?
John was born on September 16, 1920, when David Lloyd George was the Prime Minister; George V was on the throne; and West Bromwich Albion were the reigning champions of English football.
Among those also to be born in 1920 were actors Mickey Rooney, Walter Matthau, Maureen O'Hara, DeForest Kelley of Star Trek fame, Shelley Winters, the second incarnation of Dr Who, Patrick Troughton; and cool Magnificent Seven gunslinger Yul Brynner. Plus, of course, this year's NHS fundraising giant Captain Sir Tom Moore.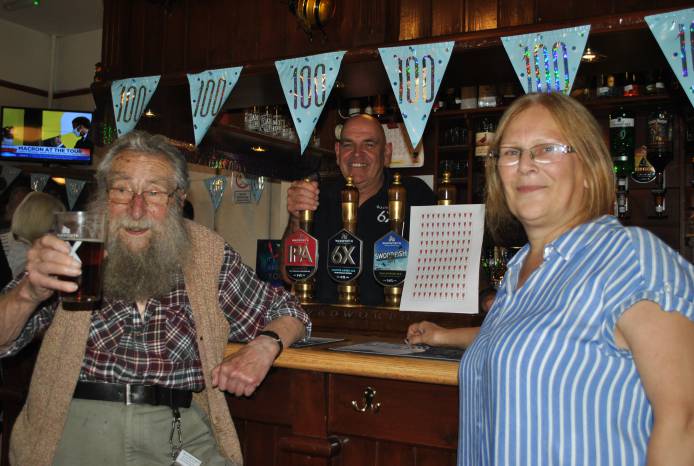 PHOTO - TOP: John Palmer outside the Beehive pub in Huish with a special message for him on the noticeboard. Photo: Steve Sowden.
PHOTO - ABOVE: Birthday boy John Palmer with Beehive licensees Kev Berkley and Ann Ford. Photo: Steve Sowden.
More news can be found in the October edition of the FREE Yeovil Press newspaper which is available from a number of outlets in and around the town including the main Tesco store, Morrisons, Yeovil Library, Palmers Garden Centre, the Iceland store in the Quedam, and the Westlands Yeovil entertainment venue.
Tags:
News.