YEOVIL NEWS: Football legend Don Woan lived and breathed the game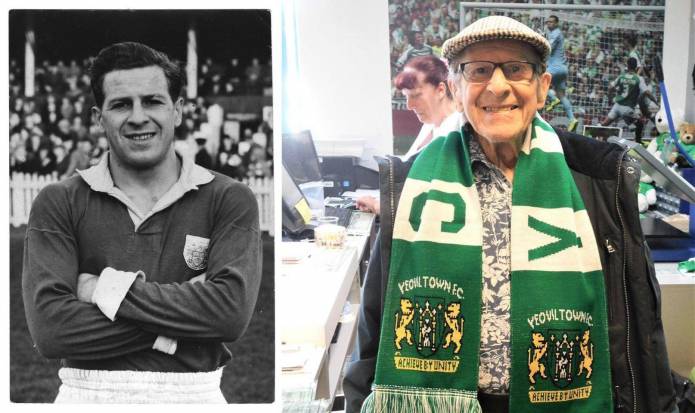 LOCAL footballing legend Don Woan – known by many for his association with local football in and around the Yeovil area – died on April 24 at the age of 92.
Don had suffered from dementia for several years and died peacefully at West Abbey Care Home in Yeovil where he had been resident since May 2019.
He was well-known in the Yeovil football scene and made many friends during his life.  Don arrived at Yeovil Town FC during the 1954-5 season, at the twilight of his professional football career, with a job as an aircraft fitter at Westlands – now known as Leonardo Helicopters - thrown in.
Don brought with him an impressive football pedigree and made 27 appearances for the Glovers, scoring two goals, and finally hung up his professional boots in 1957.
Born in Liverpool in 1927, his father died when Don was 12 and was was raised by a single mum, alongside three brothers, and a sister.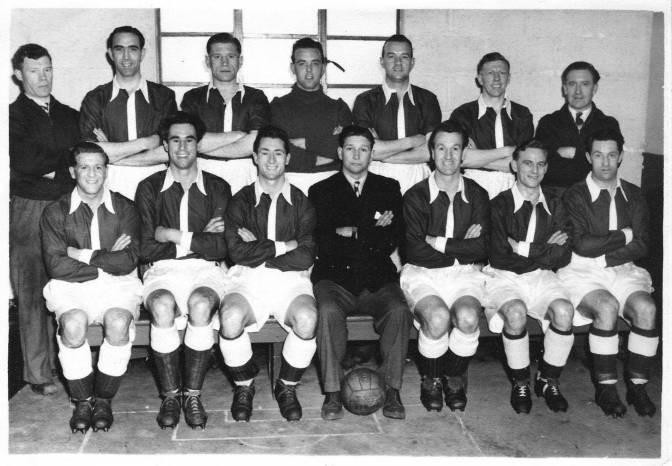 PHOTO – TOP: Don Woan during his playing days at Leyton Orient (left) and on a visit last year to Yeovil Town's Huish Park stadium.
PHOTO – RIGHT: Team photo at Leyton Orient with Don Woan (front left) along with manager Alec Stock (front centre) and defender Les Blizzard (back row, second from left). Alec Stock was player-manager of the Yeovil Town team which produced the big FA Cup giant-killing shock over Sunderland in 1949, while Blizzard was a member of that famous team.
Don's brother Alan also played professionally, for Northampton Town and Crystal Palace, and Alan's son Ian Woan played 189 games for Nottingham Forest under Brian Clough, and is currently assistant manager with Sean Dyche at Premiership outfit Burnley.
A lifelong Everton supporter, Don was plucked from his apprenticeship at Grayson Rollo ship repairers on the docks opposite Liverpool on the River Mersey, to sign for Liverpool in 1950.
Playing 33 games in the reserves, Don played two first-team games for Liverpool in 1951, one of which was a derby game against Everton.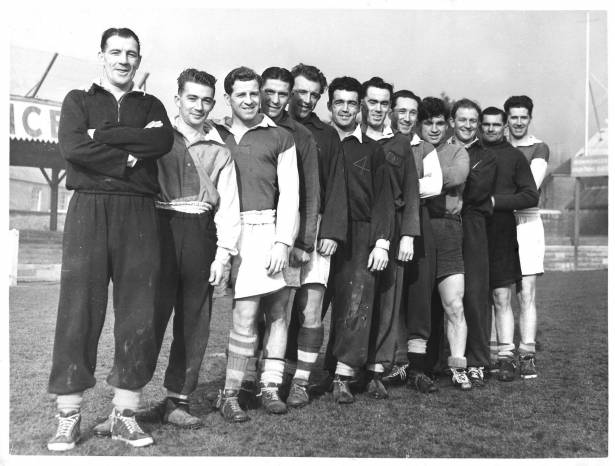 PHOTO – RIGHT: Don Woan (third from left) with team-mates at Yeovil Town FC's Huish ground.
The Liverpool Echo said some good words about Don's potential, and he was in the same squad as Billy Liddell, Bob Paisley and Joe Fagin.
Don was full of tales from his professional career, such as how he and Bob Paisley would walk to Anfield for games and training with their boots hanging around their necks.
Don's son Dave said: "Dad took me aged ten to Anfield in 1967 where he found former team-mate Bob Paisley, then the trainer for Liverpool, in the boot room polishing the players' boots.
"They gassed away like old chums and dad blagged a couple of free tickets which got me into my first big football match at Anfield."
Don was transferred late 1951 to Leyton Orient where, under Yeovil Town FA Cup giant-killing legend Alec Stock, and playing alongside Les Blizzard, another of the Glovers' cup team which beat Sunderland in 1949, he played 34 games and was involved in Orient's 1952 FA Cup run, which saw Orient put out Birmingham City and Everton, before going down to Arsenal in the Sixth Round. 
From Orient, Don moved in 1952 to Bradford City, where he made a total of 28 appearances. From Bradford, Don moved back to Merseyside in 1952, to make a further 25 appearances for Tranmere Rovers.
After Tranmere, Don arrived at Yeovil for the 1954-5 season, and finished his playing days at Trowbridge Town in 1956.
After hanging up his professional boots, Don turned his attention to the local football talent pool.
With a keen eye for talent, Don put together a scratch youth team Yeovil Co-op, consisting of the cream of Yeovil's local footballers.  Yeovil Co-op went on to dominate the Yeovil League scene during most of the 1960s.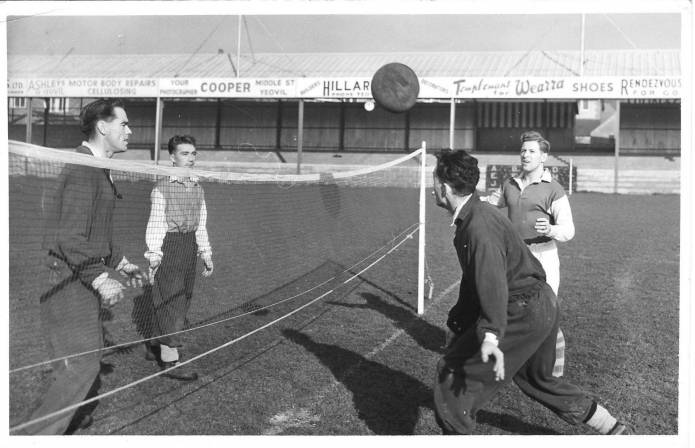 PHOTO – RIGHT: A game of head tennis at Huish with Don Woan (right) and Yeovil team-mates.
Climbing through the leagues and claiming most of the silverware along the way.  When Yeovil Co-op folded in the early 1970s, Don moved on to manage Queen Camel, Stoke, Ilminster and Sherborne Town, guiding these teams to more success.
Don finished his managing days at Chard Town in 1976.  Don remained working at Westlands in the estimating office and retired aged 60 in 1987.
He continued to indulge his passion for football, attending many of Westland Sports home games, and offering his unique insight into the game to anyone who would listen.
Despite his diminutive stature, Don was a larger than life, gregarious character, making many friends on his life journey, and is well and fondly remembered.
Steve Sowden, editor and owner of the Yeovil Press, said: "His passion for football was unquenchable; Don absolutely lived and breathed it.
"I will always remember that - he'd talk quickly with growing excitement with his hands pointing and his arms waving as to what a player should have done or shouldn't have done, and to see the puzzled look on his face if he ever came across anyone who did not like football, was priceless."
Don's wife Margaret passed away in 2011, and he is survived by his son and daughter and three grandchildren.
It is hoped that a celebration of Don's life will be held later in the year once the coronavirus threat has passed – possibly in November around what would have been Don's birthday.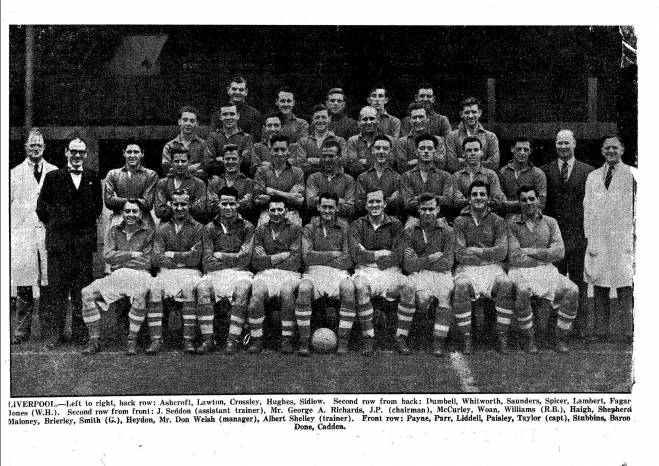 PHOTO – ABOVE: Don Woan (second row from the front, fourth from left) in the Liverpool squad team photo with Bob Paisley, who would go on to great things at Liverpool manager, in the front row (fourth from left).
Tags:
News.