YEOVIL NEWS: The Hub 'greens up' for the It's Your Neighbourhood scheme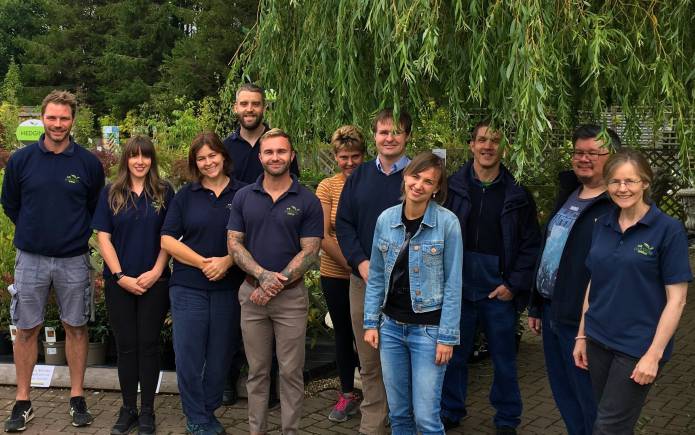 THE Hub, a Yeovil-based service for vulnerable adults across Dorset and Somerset, has received high praise in the Royal Horticultural Society's It's Your Neighbourhood initiative.
The non-competitive scheme is run by the world's leading gardening charity for community groups wanting to 'green up' their local area.
With help from Brimsmore Gardens, which donated 150 plants, including bulbs, salad vegetables and herbs, as well as 50 bags of compost, The Hub was awarded an "outstanding" certificate of achievement, the highest possible level to be awarded.
As part of the personal, social and employment skills support on offer to The Hub's trainees, It's Your Neighbourhood provided a platform for learning garden design, construction and engaging with the local community.
Commended for its imaginatively constructed garden with containers made from recycled, repurposed and upcycled materials and filled with an array of colourful, tactile and edible plants from Brimsmore Gardens, The Hub's wide variety of horticulture impressed the judges after only a year of moving to new premises.
Joe Knights, warehouse and site coach at The Hub, said: "This is such a fantastic achievement for The Hub and we are so grateful to the team at Brimsmore Gardens for their continued support throughout this project.
"Receiving so many plants, as well as calling on their knowledge and expertise, really made a huge difference to our garden design, and as well as learning lots of new skills along the way, our trainees have loved picking the produce that was grown from the kind plant donations."
Mike Burks, managing director of The Gardens Group, adds: "As well as providing an opportunity to engage with our natural environment, gardening has so many other benefits, including acting as a source of therapy and helping bring communities together, so we were delighted to support The Hub as it worked towards the It's Your Neighbourhood certification.
"What is being achieved at The Hub is truly inspired, with every inch of the garden utilised to its full potential with old unused items, such as tyres and plastic bottles, being transformed into vibrant growing spaces. This accomplishment is a great example of how outdoor areas of all shapes and sizes can be transformed into thriving green spaces for all visitors to enjoy, so I hope this can inspire other groups and individuals in the region."
PHOTO: The Hub trainees visiting the team at Brimsmore Gardens in Yeovil.
Tags:
News.