YEOVIL NEWS:: Breast Cancer Unit Appeal hits £1.3m milestone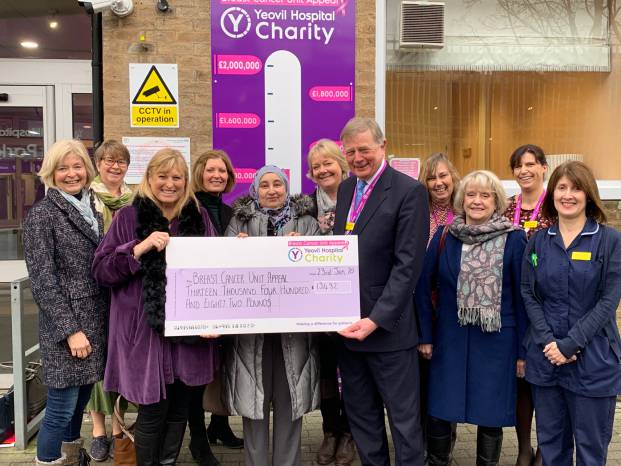 THE Breast Cancer Unit Appeal at Yeovil District Hospital has hit new heights last week when it reached the £1,300,000 mark.
The appeal total was bumped up by Claire Sparrow and her friends Sarah Childs, Isabelle Mace, Sarah Smibert, Sarah Edwards and Anne Clark who put together a charity ball and raised £13,482 in one night. They were given the honour of updating the total on the giant thermometer outside the hospital.
The Yeovil Hospital Charity's head of fundraising, James Kirton, said: "Over Christmas we saw a real push from the community, with lots of donations coming in from individuals who had visited the hospital and also from community groups.
"It's really motivating for the Breast Care team to know that the community is behind them and they are working hard themselves doing presentations, bucket collections, cake sales and raffles in their free time.
"We are now looking for more local companies to get involved so we need people to mention the appeal to their employers.
"There are lots of ways companies can get involved, whether it is sponsoring one of our events, fundraising with a group of staff, or making us their charity of the year.
"It is always a positive experience for the companies involved. The fundraising total is going up all the time, but there is still a long way to go, with almost £700,000 still to raise. We want to do it as quickly as possible and get construction underway."
The appeal has a £2m target and will help to fund a new unit at the hospital where breast cancer patients can get all the services they need in one place and under one roof – rather than having to walk about the hospital to different departments.
PHOTO: Pictured (from left) are Isabelle Mace, medical secretary Stephanie Callaghan, Claire Sparrow, Sarah Smibert, consultant breast surgeon Salma Naseem, Sarah Edwards, Yeovil Hospital chairman Paul von der Heyde, medical secretary Lorraine White, Anne Clark, consultant radiographer Stella Campbell and specialist nurse Rebecca Laney.
Tags:
News.