YEOVIL NEWS: Inpatient unit at St Margaret's Hospice WILL CLOSE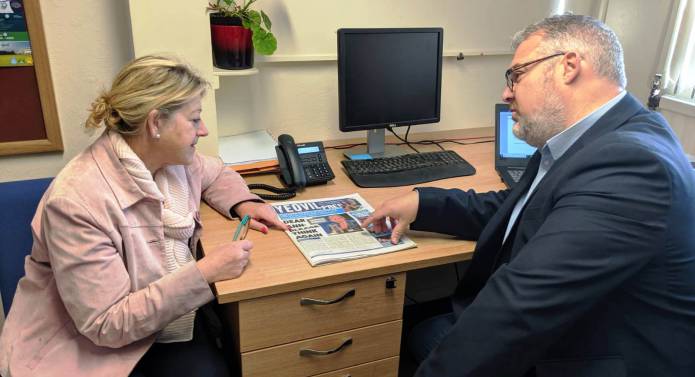 THE inpatient unit at St Margaret's Hospice in Yeovil WILL CLOSE although the charity has said that many of the jobs put at risk of redundancy will be saved.
The charity has announced today (October 9, 2019) that its hospice service in Yeovil will be undergoing dramatic changes to secure many of the 50-plus jobs which were threatened because of the inpatient unit closure.
While the inpatient unit within the hospice building will close, the facility will remain open and continue to deliver out-patient services, bereavement counselling for children and adults, and a wide range of additional services and therapies for patients.
Following the announcement of the consultation, Liberal Democrat Parliamentary Candidate for Yeovil, Mick Clark, has been working closely with members of the hospice's executive, to help safeguard jobs for hospice employees and find ways that they can continue to deliver the greatest care for the largest number of patients.
"I am naturally disappointed that St Margaret's Hospice will not be retaining the full capacity of the in-patient unit, but there are many factors (including recruitment barriers) which caused the board to reach this conclusion," he said.
"It is deeply disappointing that central government's promises have amounted to nothing. Although the service model is changing, the jobs and services that have been saved are a direct reflection of the hard work and commitment of our community to keeping this service afloat.
"I have nothing but admiration for the staff, volunteers, and fundraisers who support the hospice. We now need to pull together as a community to continue to fund the vital work that they will continue to do in the community."
St Margaret's Hospice have announced that, following Mr Clark's input and the thousands of supporters who signed petitions calling on the Clinical Commissioning Group to properly fund the service, there will be a dedicated hospice bed provision at South Petherton and Wincanton community hospitals, additional in-patient beds at the Taunton site, a doubling of community care services, a rapid reaction team to assist in the community, an on-call service linked to the NHS 111 service hosted at Yeovil District Hospital, and a continuation of out-patient services at the existing hospice facility.
More news on this to follow.
PHOTO - TOP: Mick Clark speaking with St Margaret's Hospice chief executive Ann Lee.
Tags:
News.