YEOVIL NEWS: September edition of Yeovil Press is out NOW!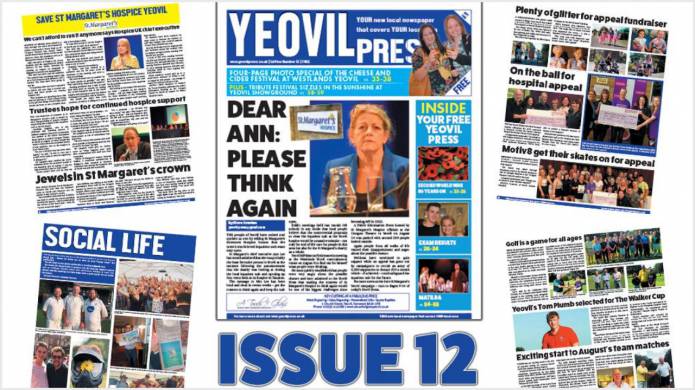 THE September 2019 edition of the free monthly independent Yeovil Press community newspaper is out now – packed full of local news, photos and features.
Copies of the 72-page Yeovil Press are available to be picked-up for free from several outlets including: the main Tesco store in Yeovil, Morrisons in Yeovil, Palmers Garden Centre, A Touch of Glass in Church Street, Tesco Express on Abbey Manor, the Co-op store on Westfield; Westlands Yeovil entertainment venue, Octagon Theatre, Yeovil Library, St Margaret's Furniture Store (Old Cinema), the Co-op Store/Garage in Sherborne Road, West Coker Garage/Shop, Montacute Garage, and the Co-op store in Stoke-sub-Hamdon by Stanchester Academy.
The September edition hit the shelves yesterday (Thursday, September 5) and it is being snapped up by readers.
If stocks have run out in certain outlets – they will be replenished.
But once they've gone, they've gone …. until the October edition is published.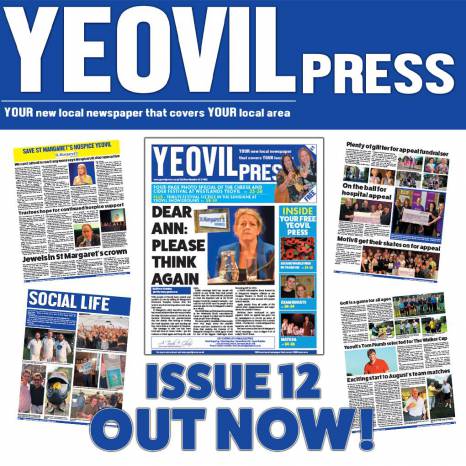 This month's edition contains plenty of news about the ongoing concerns over the future of the inpatient unit at St Margaret's Hospice in Yeovil.
There is plenty of news about the continuing support for Yeovil District Hospital's Breast Cancer Unit Appeal, plus photo specials from the Norton and Chiselborough Flower Show and the Yeovil Allotments Show.
There is news and photos of A-Level and GCSE results from Yeovil College, Buckler's Mead Academy, Preston School, Westfield Academy and Stanchester Academy.
Plus we have a four-page pull-out of photos from the recent Cheese and Cider Festival held at the Westlands Yeovil entertainment venue.
There are also photo specials from the recent Tribute Festival at Yeovil Showground and Castaway Theatre Group's summer school where talented young people spent just five days producing, rehearsing and performing a shortened version of the ever-popular musical Matilda.
The Yeovil Press also has features on the new owners of the Cake Box Bakery and the Jupiter Moon Hair and Beauty salon in Yeovil. And we look ahead to the fun-packed Super Saturday event in Yeovil.
There are also 12-pages of sport including local skittles, golf, rugby, netball, cricket and football.
The Yeovil Press also includes its two-page What's On Guide and its regular features News in Photos and Social Life.
Plus the paper takes a look back 80 years ago to when Britain declared war on Germany at the start of the Second World War in September 1939. Did you know more than 40 civilians were killed in Yeovil during the war as a result of German air raids?
The Yeovil Press is an independent publication and produced by journalist Steve Sowden, a Yeovilian born and bred, who has worked on Somerset-based newspapers for 30 years.
"I hope you enjoy the September edition of Yeovil Press and please spread the word about this new publication with family, friends and work colleagues," he said.
"I would like to thank the various outlets who have agreed to take copies of the Yeovil Press which can be picked-up for free by people and to James Healey, of JRH Media, for his fantastic help with design and layout.
"A huge thank you once again to all the advertisers in this month's edition – your support really is appreciated.
"Also special thanks to freelance photographer Christine Jones for all her photos, hard work, enthusiasm and encouragement."
The next edition of Yeovil Press will be out in early October. So please get in touch with Steve with any events you would like covered and featured in the paper or send him your news, views and photos to me at yeovilpress@gmail.com .
Tags:
News.