YEOVIL NEWS: We can't carry on as we are says hospice chief exec Ann Lee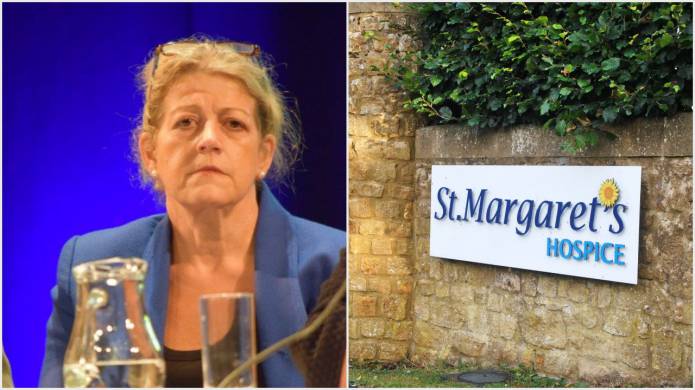 UNDERFIRE St Margaret's Hospice chief executive Ann Lee admits she knows she is Public Enemy Number One at present in Yeovil with the proposed closure of the inpatient unit at the town's hospice.
But Mrs Lee stood up and faced the jeers and boos of an angry and emotional audience at the Public Information Event held at the Octagon Theatre in Yeovil on August 14 for hospice officials to talk about the controversial closure.
"I know that you are angry with me and that is an understatement," she told the audience.
"But I'm passionate about St Margaret's Hospice and the care that has been provided in this community.
"There is nothing I would like to do more than to say we can continue."
Mrs Lee explained it was around "six years ago" when officials started to look at the work of the hospice and "share the money around to fill the holes."
She said it cost £8m a year to sustain St Margaret's services throughout Somerset with £3m of that for Yeovil and felt "this community cannot sustain that service."
"We have around 200 people a year in our inpatient unit and they deserve every penny of the £3m which is used to run the hospice in Yeovil," she said.
"There are another 4,000 people out there in the community and they tell us about the care they wished they had – everyone would like a bed at St Margaret's.
"I am the last person on this planet who wants to see the inpatient unit at Yeovil close."
Mrs Lee said there was a huge shortage of medics across the county, while more and more GPs were retiring which was causing staffing issues for St Margaret's.
She said the board of trustees met on June 26 and "based on the facts" felt it would be better to put all inpatient beds on one site at Taunton and to close the IPU at Yeovil.
A graph to outline the overall annual £8m funding for St Margaret's in Somerset had three revenue streams from fundraising, NHS and legacies – each roughly bringing in a third.
"We can't rely on legacies and we have to do something new," she said. "If we carry on as we are St Margaret's won't be here at all in 20 years. We could go into liquidation and we can't do that."
Mrs Lee added that there were a lot of myths going around about St Margaret's selling the Yeovil hospice site for developers of the planned Keyford development next door.
"We don't want to sell the building – I can promise you that," she said.
Mrs Lee had started off her address to the Octagon audience with a heart-felt plea for understanding and thanks to her friends and hospice supporters over the years in times of personal grief.
She also went back to the beginning and how she had attended the launch event back in 2001 to raise the £4.5m to build the Yeovil hospice in the first place with the likes of Tim Chappell and Leo Hayward leading the campaign.
Tags:
News.