YEOVIL NEWS: Hospice bosses left in no doubt – people are desperately angry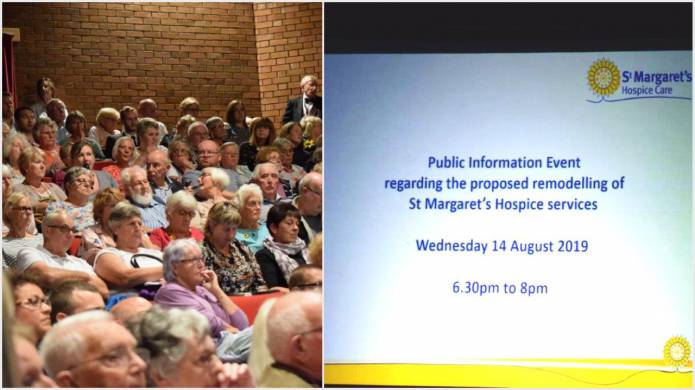 THE people of Yeovil and surrounding area united as one on Wednesday (August 14) evening to oppose proposals for the planned closure of the inpatient unit at St Margaret's Hospice in the town.
The Octagon Theatre was packed for a Public Information Event where hospice bosses tried to explain the reasoning behind the controversial proposals.
The auditorium was full of emotion, concern, anger and disbelief that St Margaret's would take away the inpatient unit at the hospice – the very core of the hospice - which has been a much-loved and cherished part of the Yeovil community ever since it was officially opened in 2004.
St Margaret's chief executive Ann Lee outlined the proposals being considered to offset growing funding and staffing issues.
She said the 12-bed inpatient unit at Yeovil would close and the inpatient unit at St Margaret's Taunton hospice would be increased by four beds to 16.
But there would be an increase in the number of staff supporting patients in the South Somerset area community, while other services would continue at the hospice in Yeovil.
There were boos from the audience when it was suggested that a national Voices Survey in 2015 of bereaved people said that 93 per cent felt their loved one dying at home was the right place when they died, while hospice officials repeated claims that two out of three patients told them that they wanted to die at home. It was also said that 80 per cent of people asked in a survey said they would prefer to die at home.
The news of the proposed closure of the inpatient unit has not gone down well at all and the panellists sat on the stage of the Octagon will have gone home knowing that only too well unless they were totally blinkered to the atmosphere running so strongly through the theatre.
People at the meeting warned the panel that if the inpatient unit did go – then the amount of financial support locally would reduce drastically.
Rob Mather, a hospice volunteer, said: "If the inpatient unit closes at the hospice in Yeovil I will withdraw my financial support and give it to another charity."
A number of people asked why St Margaret's had not come out and told people before that there were problems – especially after it was said during the meeting that concerns first arose six years ago.
Audience member Wendy Burton said: "If St Margaret's was in this much trouble, why didn't we know about this? We didn't know anything about this until it hit the press."
Wendy said that trustees had "let Yeovil down" and that the hospice should be "run by Yeovil people and not people in Taunton."
"It is not an option to take away all of our beds and put four extra ones in Taunton," she said.
Sue Phillips, a retired practice nurse, spoke about the travelling to and from the hospice in Taunton and said it was a "terrible journey" at a time when "your emotions are everywhere."
She said that "time is so important" when a loved one is a patient in the hospice and you do not need the extra travelling.
Members of the newly-formed Friends of St Margaret's Hospice Yeovil Ltd also put their comments to the trustees.
Among the audience was Yeovil MP Marcus Fysh, Liberal Democrat parliamentary candidate Mick Clark, Yeovil Labour group chairman Cllr Terry Ledlie and other local town, district and county councillors along with hospice volunteers and staff.
Tags:
News.