YEOVIL NEWS: Welcome to The Shutler Foundation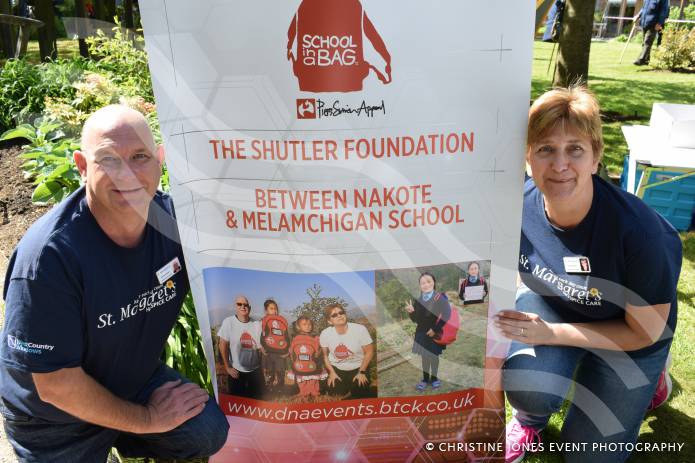 FORMER Mayor and Mayoress of Yeovil, Darren and Anna Shutler, are continuing their work to support School in a Bag and another valued local charity St Margaret's Yeovil Hospice.
From 2016-18 they raised a fantastic £63,000 which was split between the two charitable organisations and they have continued their fundraising since Darren stepped down from Yeovil Town Council last summer.
"After finishing my mayoral term it didn't feel right to stop supporting these two worthy causes so we came up with D"N"A Events (Darren and Anna) as an umbrella name to continue fundraising through," said Darren.
"Therefore any money raised through future events will be divided between the two charities."
But Darren explained that the money raised for School in a Bag would be used in a different way.
"In 2018 Anna and I travelled to Nakote in Nepal to officially open a library we had built through our fundraising efforts whilst as Mayor and Mayoress and felt humbled by the way we were received in the community," said Darren.
"After this trip and after discussing our idea with Luke Simon, of School in a Bag, and Jimmy Lama from HELP (Helambu Education Livelihood Partnership) in Nepal we decided to form The Shutler Foundation as a subsidiary of our fundraising efforts to sponsor one pupil from the school to go onto secondary education for two years in association with guidance from the local teachers.
"This includes the cost of accommodation, uniform, school equipment, food and medicine if necessary."
Darren and Anna were recently delighted to announce the first pupil selected for support is Ngwang Doma Hyolmo who started at the Melamchigan School in April 2019.
The former Mayor explained the reasoning behind their support of the School in a Bag organisation when he had to nominate a designated charity for 2016-17.
"As I'm sure you are aware on Boxing Day 2004 a tsunami hit in Thailand and affected families across the world," said Darren. "Piers Simon - a local guy didn't return home. I look back on that day and on a selfish note thank god that it didn't happen two years before as I was stood on a beach in Thailand with 36,000 scouts from across the world having just attended the 20th World Scout Jamboree.
"I lost some friends from the local community in that disaster and can't even begin to imagine what it was like.
"I know Anna and I don't have children but between us we have over 40 years of experience working with Scouts and Guides and feel that every child deserves an education hence choosing School in a Bag."
Darren explained that their support of St Margaret's Hospice had come from their own personal family dealings with the organisation and the wonderful staff.
"St Margaret's Hospice is a charity that until you are unfortunate to be in that situation to use it you don't realise the value of support it gave you - I certainly didn't," he said.
"We first used their services back in January 2008 when they cared and supported not only my mum in her final weeks of her life but us as a family.
"In January 2013 Anna's dad was taken ill and he used the home care side, but sadly passed away at home. More recently in August 2014 they cared for and supported my dad and made him feel at peace with the world.
"The dedication and love ALL the staff and volunteers give to each individual and their families is priceless."
PHOTO - TOP: Darren and Anna Shutler have launched The Shutler Foundation. Photo: Christine Jones.
Tags:
News.