EQUESTRIAN: Harriet speeds to second success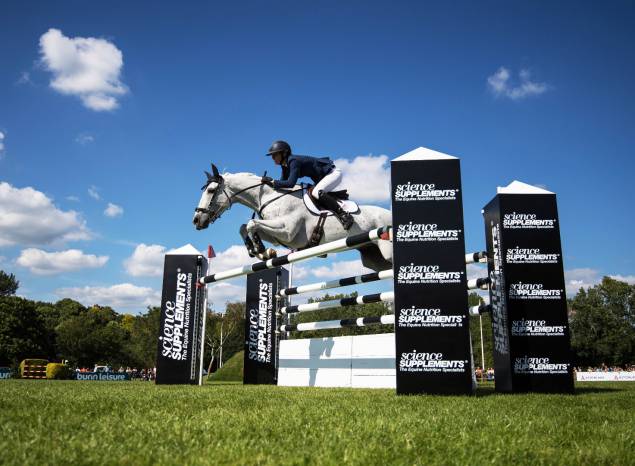 SOUTH Somerset rider Harriet Nuttall and her horse Silver Lift took top honours at this weekend's Hickstead Derby Meeting.
Harriet saw off reigning champion Matthew Sampson to win the Science Supplements Speed Derby on Saturday, June 22, 2019.
Matt had been aiming for a third consecutive win with Topflight True Carlo, while Harriet was hoping to add a second win with Silver Lift, following their last victory in 2016.
The crowd at Hickstead was treated to an excellent display of sport, with the leaderboard changing frequently as the class progressed. Last year's runner up Paul Crago, on Valentino IX, delivered another fast round to take the lead before Brazil's Carlos Motas Ribas and Brilexo shaved 2 sec off Paul's time to go in front.
But Harriet – who has finished runner-up three times in this class as well as winning in 2016 – knows exactly where she can make up time and save valuable seconds, and she produced a clear round with Silver Lift in a time of 95.33 sec to put the pressure on her rivals.
Matt Sampson had the advantage of being drawn last to go, and he went all out in an attempt to cross the line quickest. He looked set to claim a third victory, but he knocked down the final fence to add four seconds to what would have been a record-breaking time, leaving him in second place.
"I've been runner-up a lot, so actually just to get two wins on him means so much," said Harriet. "I seem to always come second, so I'm delighted to have another win under my belt."
Asked about her strategy, Harriet said: "I just tried to cut corners as much as I could and keep a good rhythm; maybe my rhythm wasn't as fast as it had been in previous years, but he was clear, and he actually hasn't jumped the Speed Derby clear that many times."
Harriet had a nervous wait to see if anyone could better her time, and for a moment it looked as if Matt had done enough to take the win. "When Matt had the last down, there was a big pause - he was so much faster than me that we didn't know if the four seconds added would make the difference. But I edged it," she added.
Harriet was delighted with her experienced campaigner Silver Lift, who is now 14 years old.
"Silver Lift is such a cool horse," she said. "I try not to do so much with him now - I haven't taken him to a show for three weeks. He's not meant to be a showjumper at all, but he tries his heart out. He skims over the fences, and he's careful and fast, which is what you need in a class like this. He's the most fun horse I have on the yard; he's a joy to ride."
Harriet is based at Nuttall Equestrian which has its headquarters in Queen Camel near Yeovil.
Tags:
Sport.