YEOVIL NEWS: Amazing Valerie who has helped to raise £950k for charity wins Mayor's Award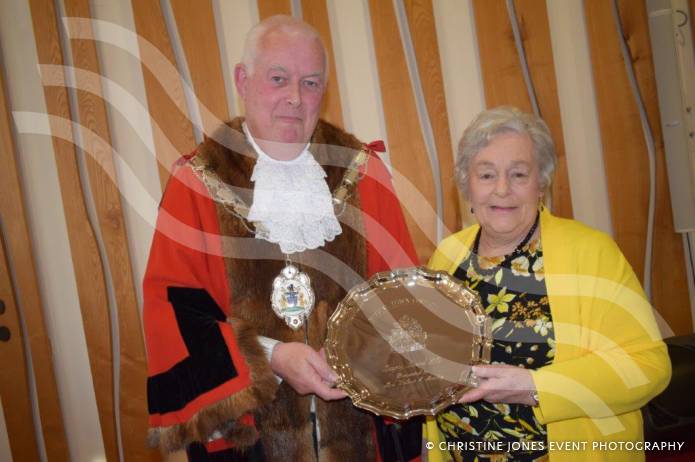 A WOMAN who has helped to raise a whopping £950,000 for charity has been awarded the annual Silver Salver by the Mayor of Yeovil.
Valerie Murley joined the Yeovil branch of what was then known as the Leukaemia Research Fund in early 1972 and although she might be short in stature, she has become the group's powerhouse over the years.
The branch changed its name to the Leukaemia and Lymphoma Research group and then more recently to the current title of Bloodwise which covers all blood-related cancers.
The Mayor, Cllr David Recardo, made the presentation of the award to Valerie during the Yeovil Annual Town Meeting held at the Baptist Church in South Street on Tuesday (May 14, 2019).
"The Mayor's Award is an award which is awarded to someone or to an organisation that provides services out of the goodness of their heart to Yeovil," he said.
"The recipient has been involved in fundraising for this charity for over 46 years. They have held the office of secretary and treasurer for long periods of this branch's history. This person has also received the highest award from the charity in recognition of her outstanding efforts."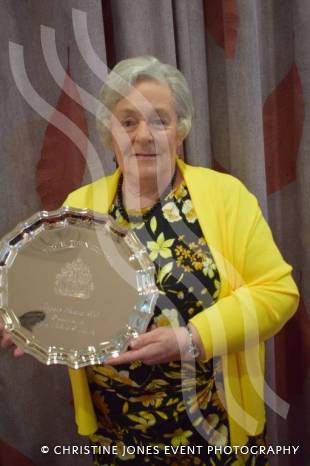 PHOTO – TOP: The Mayor of Yeovil, Cllr David Recardo, with award winner Valerie Murley.
PHOTO – RIGHT: Valerie Murley with the Silver Salver.
The Mayor added: "This person has been able to develop numerous opportunities to raise funds for this charity – such as cheese and wine evenings, visits to fetes, icing Easter Eggs, organising sponsored walks and bikeathons and building and maintaining relationships with many large supermarkets.
"The recipient regularly visits about 20 supermarkets in various local towns and always writes to every store thanking them for their enormous support. This person collects in all weathers.
"Ladies and gentlemen, it gives me great pleasure to name this wonderful person as Valerie Murley."
Valerie was nominated for the award by Cllr Wes Read who had Leukaemia Research as his nominated charity when he was Mayor of Yeovil from 2008-10.
"I have known Valerie and her family for many years as a friend and neighbour and watched her children grow up," said Cllr Read.
 "Without Valerie coming forward to maintain this excellent avenue of income, the branch would only have its Annual Social Evening together with a few other opportunities to depend on for funds.
"Over the last 46 years the Yeovil branch has been able to raise and forward to head office in London a staggering £950,000.
"Valerie and her small team are hoping that £1M can be reached during their lifetimes, I'm sure they will do their best."
Tags:
News.