SOUTH SOMERSET NEWS: Fantastic result for Liberal Democrats - the late Paddy Ashdown would be thrilled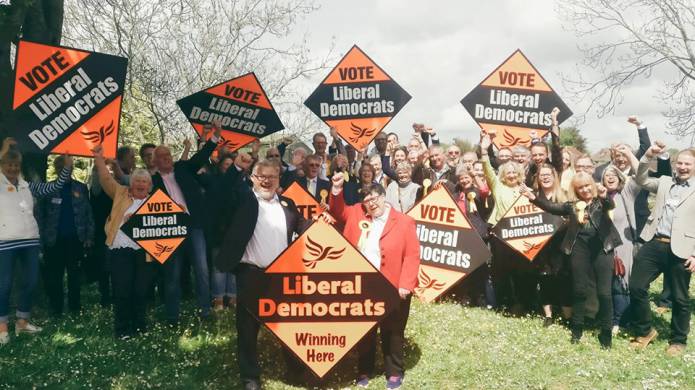 LIBERAL Democrats in Yeovil and across South Somerset have been celebrating after seizing a memorable victory in the 2019 district council elections.
The LibDems have won 41 of the 60 seats up for grabs at South Somerset District Council with the Conservatives trailing in second place with just 15 successes. There are also four independent councillors – but there will be no representation on the council from Labour, Green Party or UKIP.
The LibDems had gone into the election on Thursday, May 2, with a slender one-seat majority based on 59 councillors, with there being one vacancy.
But by just after 1pm on Friday, May 3, and with all of the results having been announced council leader, Cllr Val Keitch, was beaming from ear to ear as her LibDem group had opened up a convincing 22-seat majority.
It has been a disastrous 24 hours for the Conservatives with them losing over 1,000 councillors from authorities across the country, while Labour had lost more than 100 as the voting public has demonstrated its dissatisfaction nationally over the shambolic handling of Brexit.
Yeovil MP Marcus Fysh was at the Westlands Yeovil entertainment venue on Friday for a while as the ballot papers were being counted and he must now be concerned as to what might happen if the Prime Minster Theresa May announced a General Election any day soon.
South Somerset voted to leave the EU – a move supported by Mr Fysh - during the Referendum three years ago with a 14,500 victory, which left local LibDems, who had been very much in the remain camp, fearing that things could get worse for them at these local elections.
But such has the handling of Brexit at Westminster become nothing short of a ridiculous pantomime - those who may have voted "leave" in 2016 were certainly not flying the flag for the Tories at the polls yesterday.
What must be even more worrying for Mr Fysh is that the LibDems are still banging the "remain" drum over EU and yet people who voted for "leave" have clearly voted for them in preference to the Conservatives – a clear protest vote.
The LibDem prospective parliamentary candidate for Yeovil at the next General Election, Mick Clark, was also at the count and the expressions on the faces of him and his opposite number, Mr Fysh, were in themselves poles apart and were clear for all to see.
Mr Clark must now be keeping his fingers-crossed that pressure grows on the PM to call a General Election and he will be saying "bring it on."
Yeovil has been the bedrock of LibDem strength in South Somerset down the years – although it had become a little loosened in recent years with Conservative councillors creeping in.
But the Conservatives have been completely eliminated from Yeovil – winning no seats whatsoever in the Brympton, Yeovil College, Yeovil Lyde, Yeovil Summerlands, Yeovil Westlands and Yeovil Without wards.
And on the new Area South committee of the district council – which covers Yeovil and surrounding villages – there will be 18 LibDem members and just one Conservative (Gina Seaton who retained her West Coker seat).
There was one man who was absent from  the count – former Yeovil MP and LibDem leader Paddy Ashdown who died just before Christmas last year.
There is no doubt whatsoever that he would be holding centre stage in the pub above the clouds and rejoicing at his party's success and - if you close your eyes – you can picture him toasting victory with that infectious crinkly-eyed smile of his.
FULL RESULTS FOR SOUTH SOMERSET DISTRICT COUNCIL - http://www.yeovilpress.co.uk/blog/2019/05/03/south-somerset-news-full-local-election-results-for-south-somerset-district-council-2019/ .
PHOTO: Courtesy of Yeovil Liberal Democrats.
Tags:
News.