LEISURE: It's a little scary, but I'm sure he will love it – says Castaways founder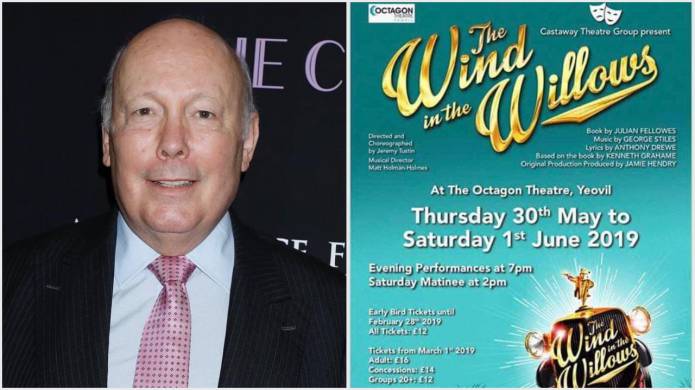 OSCAR-winning screenwriter and Downton Abbey creator Julian Fellowes will be coming to the Octagon Theatre this month to watch the Yeovil-based Castaway Theatre Group on stage.
The Castaways, a youth group of talented stage performers, are putting the finishing touches to their forthcoming musical show of Wind in the Willows – based on the classic Kenneth Grahame book about the thrill-seeking, loveable menace Mr Toad.
The story has come to life in a brand new West End musical with a book by the highly-acclaimed Julian Fellowes and music and lyrics from Olivier Award-winning duo George Stiles and Anthony Drewe.
The Castaway group – which will be celebrating its 15th anniversary this year – is led by Lynn Lee Brown and she wrote off to see if he would be interested in coming along to watch.
And Lynn said she could not believe it when she got a reply back from his wife to say that they would be attending.
"We are thrilled that Julian Fellowes and his lovely wife will be coming to watch Wind in the Willows on our opening night," said Lynn. "We are honoured that they have accepted our invitation.
"Julian wrote the Wind in the Willows musical that was in the London Palladium in June 2017. We watched the live stream at the cinema and fell in love with his work and the wonderful musical score of George Stiles and Anthony Drewe.
"So now he is coming to see our work – it's a little scary, but I'm sure he will love it."
Wind in the Willows is on at the Octagon Theatre from Thursday, May 30, through to Saturday, June 1, with nightly performances at 7pm and a Saturday matinee at 2pm.
Meanwhile, Lynn has written an original musical play which will be performed at the Swan Theatre in Yeovil from Wednesday, July 24, to Saturday, July 27, with performances at 7.45pm.
Saying Goodbye is about a group of evacuee children that are sent from Coventry to Dorset in 1943 to escape and be safe from the bombings in their city.
They make friends with the local children and soon uncover some mysterious goings on. Tickets are priced £10. For further information go to https://thelittleboxoffice.com/castawaytheatregroup/.
PHOTO - TOP: Julian Fellowes.
Tags:
Leisure.