LEISURE: Anita Dobson's Miss Hannigan meets Castaways' young Miss Hannigan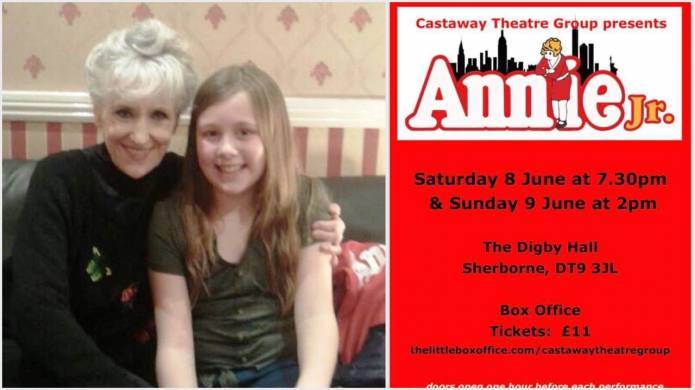 IT was very much a case of Miss Hannigan Senior meeting Miss Hannigan Junior when a young member of the Yeovil-based Castaway Theatre Group went to watch Annie the Musical at the Bristol Hippodrome.
Rosie Horsey, aged 11, of Long Sutton Primary School, recently went to watch the show and pick-up some tips as she will be playing the role of nasty-but-rather-amusing orphanage boss Miss Hannigan in Castaways' forthcoming production of Annie.
While the senior members of Castaways will be performing The Wind in the Willows at the Octagon Theatre in Yeovil from Thursday, May 30, to Saturday, June 1, the younger members will be performing the ever-popular musical about little orphan girl Annie at the Digby Hall in Sherborne from June 8-9.
So what made the trip to Bristol extra special for Rosie is that she actually got to go behind-the-scenes and meet with actress Anita Dobson, who found fame starring as Angie Watts at the start of the EastEnders soap opera on BBC in 1985, who is playing Miss Hannigan in the musical at the Hippodrome.
Rosie's mum, Zoe, told the Yeovil Press: "Rosie wrote a letter and sent it to Anita's fan club asking for tips with the American accent and acting drunk as Rosie is playing Miss Hannigan as well.
"She told Anita Dobson that she was looking forward to seeing her at Bristol. I was thrilled when I heard from the fan club saying Anita would be happy to meet us after the show.
"We chatted about the show and Castaways and how Anita got into performing and she gave Rosie some advice."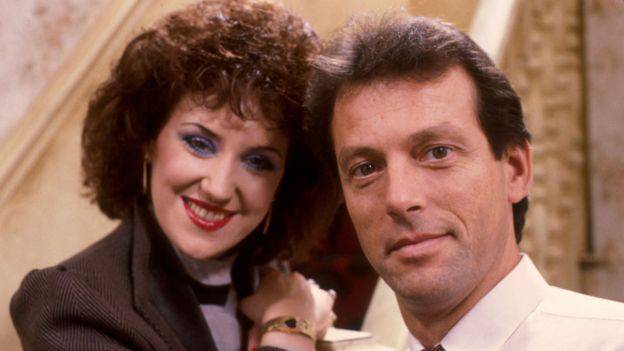 PHOTO - TOP: Former EastEnders star Anita Dobson, now playing Miss Hannigan in Annie at the Bristol Hippodrome, with Rosie Horsey, 11, of the Castaway Theatre Group.
PHOTO – RIGHT: Anita Dobson as Angie Watts in BBC soap drama EastEnders along with her on-screen husband Den Watts (played by the late Leslie Grantham) in the 1980s.
Zoe added: "Anita was so engaging with Rosie – she was great. Rosie absolutely loved the experience and was completely star struck.
"Watching Anita interpret Miss Hannigan has given Rosie some ideas on how to improve her performance."
And Zoe added: "Anita has asked Rosie to write to her afterwards and let her know how she got on in her play."
Zoe said she was still amazed at how Anita Dobson took time to meet with them.
"She was a truly grounded humble lady who was bursting with personality," said Zoe. "It was a real privilege to meet her."
Although Rosie appeared in a Christmas concert with the Castaways, this will be her first proper production with the award-winning group and she can't wait to get started!
The Castaway Theatre Group will be performing the junior version of Annie at The Digby Hall in Sherborne on Saturday, June 8, at 7.30pm and on Sunday, June 9, at 2pm.
Tickets are priced £11 and available from thelittleboxoffice.com/castawaytheatregroup .
Tags:
Leisure.