LEISURE: Listen very carefully, I shall say this only once – 'Allo 'Allo is a hit at the Octagon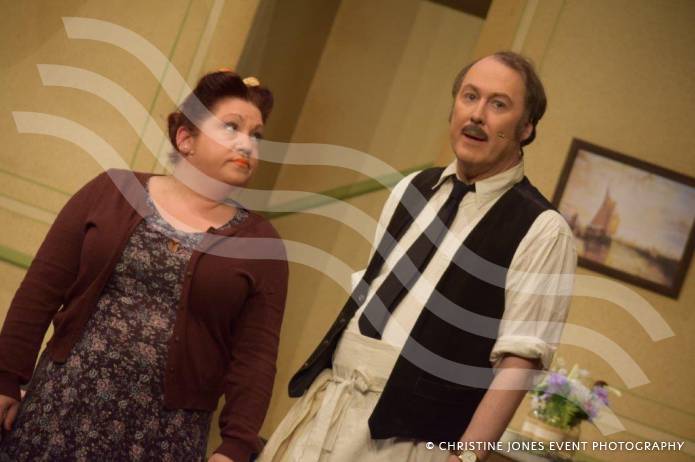 THE much-loved war-time TV comedy 'Allo 'Allo has been recreated at the Octagon Theatre in Yeovil – thanks to the Project Play team.
Following on from the team's successful run of The Vicar of Dibley last year, it has returned to once again bring laughs aplenty to audiences at the Octagon.
Project Play producer has put together three different casts for the show which has been running at the Octagon from April 15-18 and then goes on to theatres in Frome and Wimborne.
Star of the show at the Octagon has been the very talented Richard Walters as café owner Rene Artois who leads the production from start to finish with great timing and perfect one-liners.
The late great Gorden Kaye, who played Rene in the long-running TV sitcom of 'Allo 'Allo, would have been proud.
Richard is ably assisted in the war-time stage version of the sit-com by Amanda Lowder as his wife Edith and café waitresses Yvette and Mimi played by Helen Wickens and Erin Darling-Finan.
But the whole cast work together well to tell the amusing story about Van Clomp painting known as the Fallen Madonna with the Big Boobies and how forged copies get put into a knockwurst sausage while the original is safely hidden right under the nose of Rene.
The Project Play team moves on from the Octagon with new casts at the Merlin Theatre in Frome from April 23-27 to the Tivoli Theatre in Wimborne from May 2-4.
More photos from the Yeovil show will appear in the May edition of the Yeovil Press community newspaper which will be available for people to pick-up for free from various outlets in and around Yeovil including the main Tesco store, Morrisons, Octagon Theatre, Westland Entertainment Venue and Yeovil Library.
The final show at the Octagon is on Thursday, April 18, 2019, so anyone wanting tickets – please contact the box office on 01935-422884 or go to www.octagon-theatre.co.uk .
The Yeovil cast: Rene Artois, Richard Walters; Edith Artois, Amanda Lowder; Yvette Carte-Blanche, Helen Wickens; Roger Le Clerc, Derek Bourne; Michelle Dubois, Theresa Davies; Mimi Labonq, Erin Darling-Finan; Herr Otto Flick, Antony Leadbitter; Helga, Irene Threadgold; Colonel Kurt Von Strohm, Terry Francis; Captain Bertorelli, James Gaylard; Lieutenant Gruber, Colin Francis; General Von Schmelling, Andy White; Officer Crabtree, Darryl Swithenbank; British Airmen, Jack Lowder and Bradley Napper; Café Dwellers, Sue Bisset, Tom Jessop and James Rock.
Production: Producer, Matthew Rock; assisted by, Tracy Rock; director, Ian Wickens; stage manager, Andy Sugg; deputy stage manager, Simon Ball; crew, Stu Bissett, Ade Morris, Vicky Hallett and James Rock; props co-ordinator, Rachel Brindley; costume co-ordinator, Jackie Dyer; sound, Bronwen Price and Eleanor Shenton; lighting, Octagon Theatre; choreography, Vikki Rolley.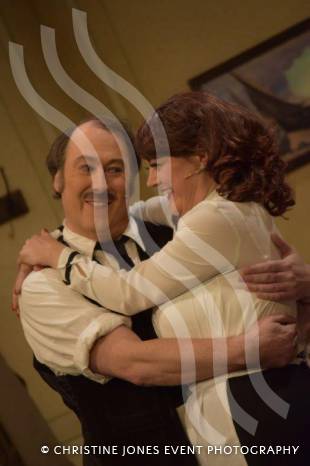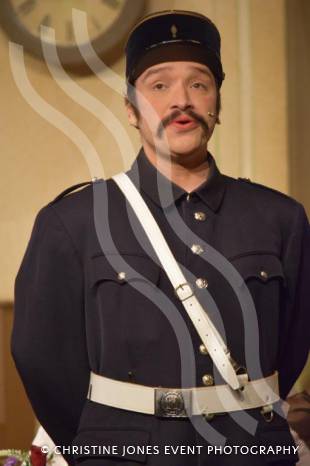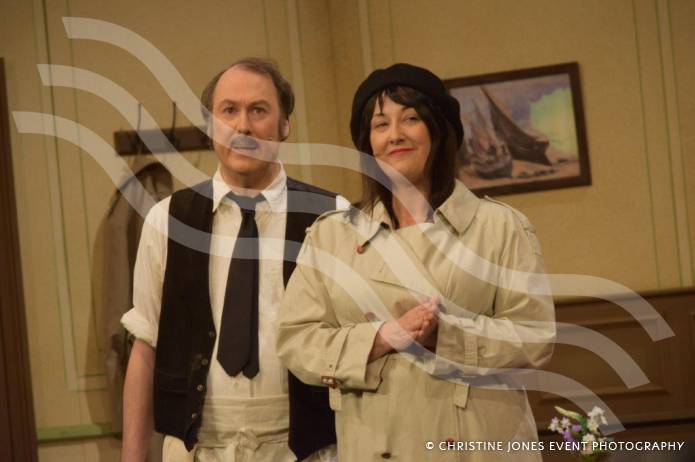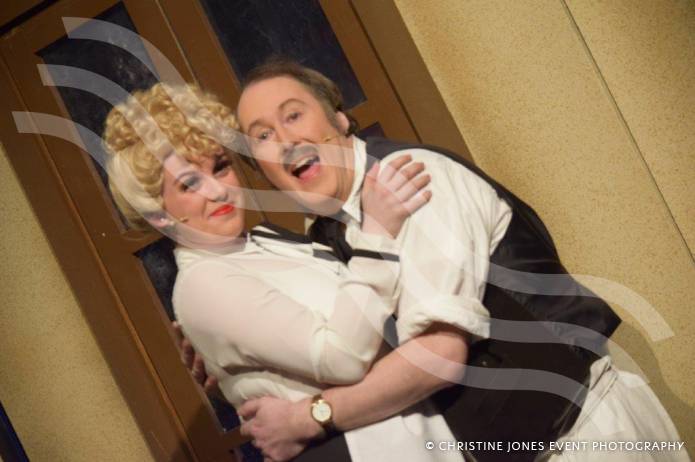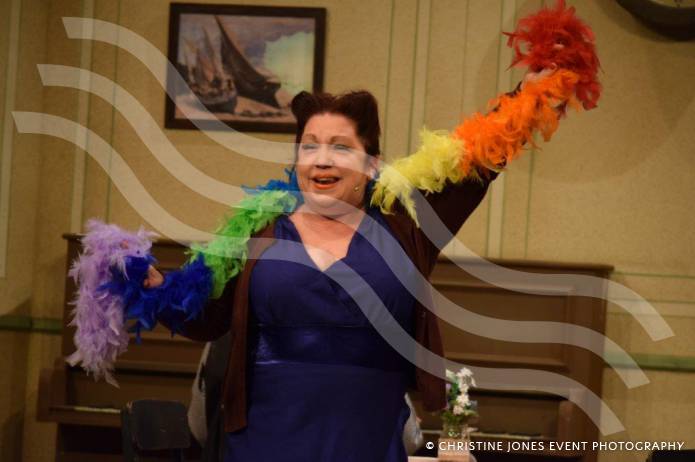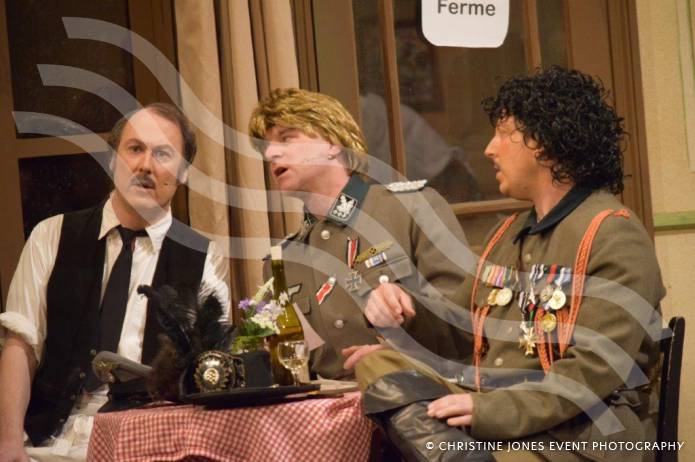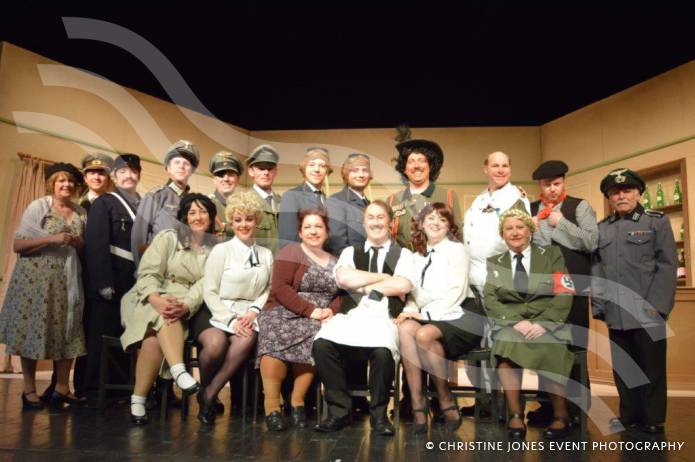 PHOTOS: Christine Jones, of Yeovil Press.
Tags:
Leisure.