YEOVIL NEWS: Perfect £1m start to new Breast Cancer Unit Appeal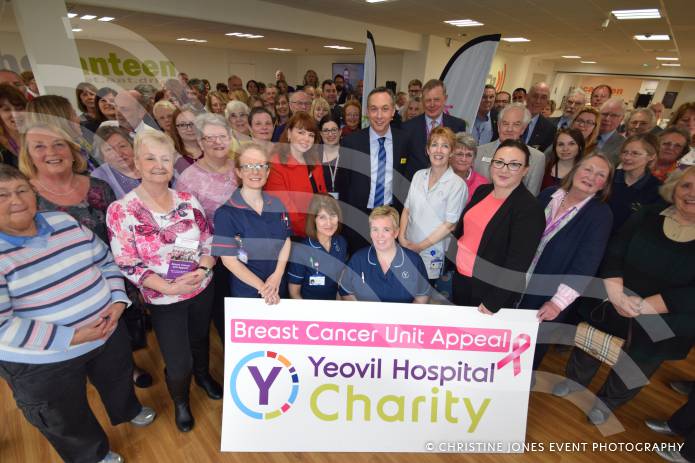 A £2m Breast Cancer Unit Appeal at Yeovil District Hospital got off to the perfect start last week – thanks to a £1m legacy left in a will.
The hospital is currently treating 2,000 new breast cancer patients each year along with 3,000 follow-up patients, but there are no dedicated facilities for them.
So the Yeovil Hospital Charity has this month launched an appeal to fund a new unit which will get all of the facilities needed for breast cancer patients under one roof.
Within moments of the appeal being launched on March 6 it was announced that the £2m target had already been halved thanks to a £1m legacy.
But that means there is still £1m to be raised and already various groups and organisations have pledged their support to the cause.
Jonathan Higman, chief executive of the Yeovil District Hospital NHS Foundation Trust, said the hospital currently sees a five per cent increase in breast cancer patients every year and "that figure is only going to increase."
"Our facilities are stretched and this planned new unit will be a great opportunity for us to change that," he said.
"This is going to be a really exciting development and the unit will be a 'one stop shop' for breast cancer."
Paul von der Heyde, chairman of the Yeovil District Hospital NHS Foundation Trust, said everyone at the hospital was so grateful to the £1m legacy which had given the appeal such a tremendous start.
Breast cancer patient Tania told people at the launch that the unit would make a huge difference to those that need it and help to improve privacy.
Tania, who has beaten the disease, said that patients had to move from place to place in the hospital which was not an ideal situation.
"I got lost countless times roaming the hospital," she said. "A single facility will make such a big difference to everyone."
The hospital's consultant breast surgeon Caroline Osborne said it was "so heart-warming" to see so many people interested in the project.
The March edition of the Yeovil Press community newspaper – out now and available for free in various outlets in around Yeovil – has more information about why the hospital wants to create this new unit and how you can help.
Tags:
News.