YEOVIL NEWS: Helping to support Yeovil's Wind in the Willows creatures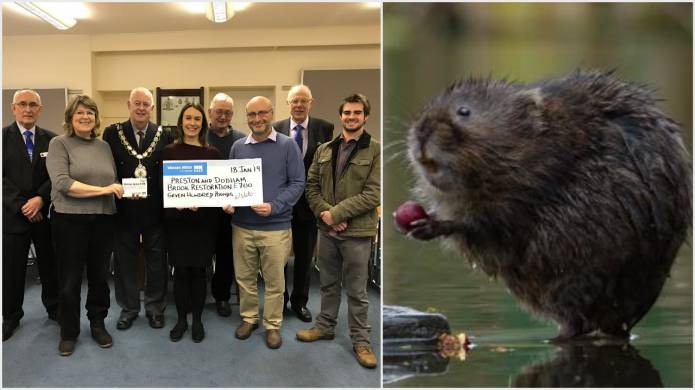 THE Yeovil Rivers Community Trust has won a £700 Wessex Water Watermark Award for its Preston and Dodham Brook Restoration Project.
Lauren East, social media manager for Wessex Water, presented Lorne Thomson, of YRCT, with its Watermark Award on Friday (January 18, 2019).
YRCT is working on a significant project which will improve the watercourses and adjoining green spaces of Preston and Dodham brooks. A side benefit of this work has been the sighting of the water vole, returning to its former habitat.
Lorne, Thomson, of YRCT said: "We are concentrating on removing invasive plants, particularly Himalayan balsam, pruning back overhanging trees and returning this stretch of Preston Brook, which runs through the North West of Yeovil, to a prime habitat for one of Britain's endangered species – the water vole.
"There is a strong chance that these endangered creatures will return to the banks of the brook when it is restored. Most people would probably be more familiar with the water voles' literary namesake - Ratty from Wind in the Willows. This will hopefully bring the water vole to a new audience, but not between the covers of a book.
"YRCT's Watermark Award will make all the difference in necessary tree pruning work that our volunteers are not equipped to do, as well as buy more tools for our ever-expanding work force."
Wessex Water's Lauren East said: "YRCT works with local partners in and around Yeovil to promote and engage the involvement of the wider community.
"This exciting project is just the kind of work that will do just that while protecting and improving the local environment.
"The benefits of YRCT's work - both to wildlife and Yeovil residents - is a project that Wessex Water is delighted to support."
The Watermark Award provides funds for environmental projects within the Wessex Water area.  Now in its 25th year, it has supported nearly one thousand environmental initiatives.
To celebrate this milestone Wessex Water has launched a new Watermark Award. Now communities can apply for a special Anniversary Watermark to help with installing water bottle refill points that will reduce single use plastic drinking bottles.
The Wessex Watermark Awards are organised by The Conservation Foundation who judge all the projects.
Tags:
News.