YEOVIL NEWS: MP hails £293m Apache deal for Leonardo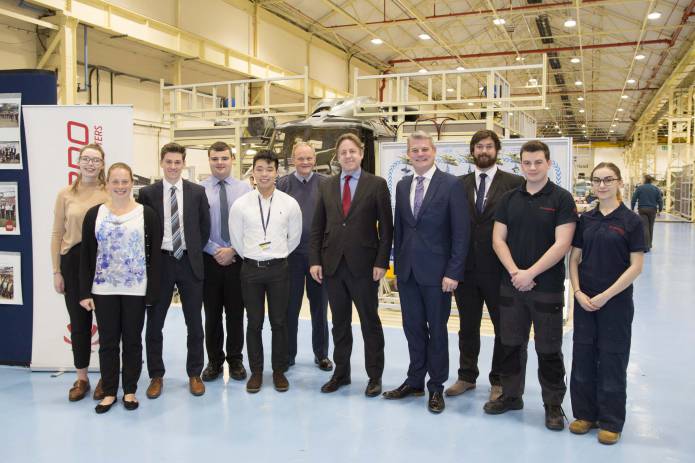 YEOVIL MP Marcus Fysh was joined by Defence Procurement Minister Stuart Andrew at Leonardo Helicopters for the announcement of the new five-year contract for maintenance and repair of the fleet of 50 Apache attack helicopters.
He hailed the contract - worth £293m - as a great endorsement for the team and Yeovil factory previously known as AgustaWestland.
The Apache AH MK1 Integrated Operational Support (IOS) contract will maintain the fleet until it is retired from service in 2024.
Mr Fysh said he had worked extensively to promote the company including a meeting in Rome with the Board at the start of last year and regular meetings with Defence Secretary Gavin Williamson.
During the visit, Marcus and the Minister also met with apprentices at the company to talk about their experiences of the opportunities and skills training.
"I would love to see more technical education provision in the area and am pushing for the introduction of T-Levels here and more funding for them," he said. "We have such a wonderful engineering heritage and it's exciting for young people to see these amazing careers here in Somerset."
For further information see https://www.gov.uk/government/news/293-million-deal-for-apache-fleet .
PHOTO: Defence Minister Stuart Andrew is pictured Yeovil MP Marcus Fysh and Air Vice Marshall Graham Russell along with apprentices and graduates at Leonardo Helicopters.
Tags:
News.