YEOVIL NEWS: 100,000 SchoolBags have given hope to 100,000 children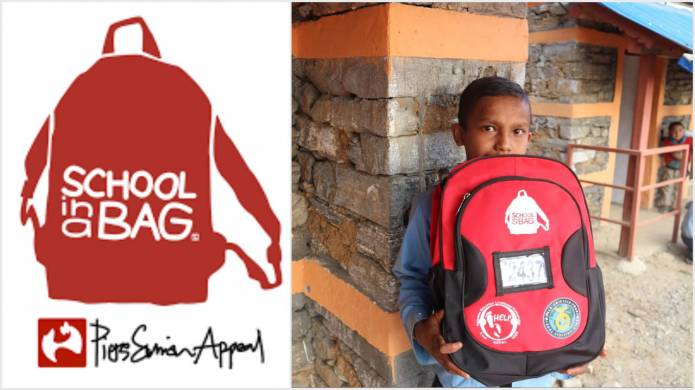 THE Piers Simon Appeal, which is based near Yeovil, has reached a major milestone with its School in a Bag initiative as the 100,000th SchoolBag has been distributed to a child in need.
The magic number was reached on Wednesday, January 9, 2019, and was distributed by the group's Nepalese charity partner, Helambu Education and Livelihood Partnership – a feat made especially exciting because it is during School in a Bag's tenth anniversary year.  What a way to kick off 2019!
The Piers Simon Appeal was set-up by the charity's founder and chief executive officer, Luke Simon, after his older brother, Piers Simon, lost his life in the Indian Ocean tsunami on Boxing Day in 2004.
After being the largest donor to Koh Phi Phi in Thailand - the island where Luke, Piers and some friends were on when the tsunami struck - and launching donation appeals following natural disasters, it was working in collaboration with Cornish charity Shelterbox in Swaziland that gave Luke the change in direction from a disaster-relief charity to an educational charity.
In 2009, School in a Bag was born.
"We often say that if losing Piers changed our lives for the first time, it was during our trip to Swaziland to see the first SchoolBags being handed out that life changed for the second time," he said.
"It was so humbling for my parents and I to be able to give incredibly poor and destitute children a little rucksack of simple resources; we knew there and then that each SchoolBag had the power to drastically improve their learning capabilities, giving them a better education, which could directly lift them out of poverty.
"The SchoolBag gave children hope, and acted as a passport for a brighter future and the fact that the bags had the Piers Simon Appeal name on them was a wonderful tribute to the legacy we created for Piers."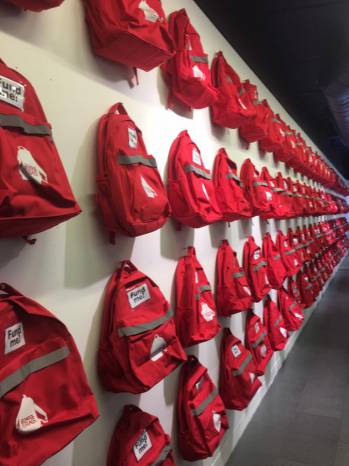 PHOTO - TOP: Nine-year-old Prakask, who lives in Nepal, has become the recipient of the 100,000th SchoolBag.
Luke added: "But, it was the restructuring of the charity, giving the initiative the School in a Bag name that proved the catalyst to getting us to where we are today.
"We're now a team of four people, we have affiliations in both Bahrain and Australia, we hit the £2million raised mark in August last year and we've distributed SchoolBags in 39 counties with more to be added to soon.
"We have over 8,900 SchoolBags forming 16 different projects in 14 countries that will be distributed in the coming weeks and months so there is plenty more to look forward to.
"Today however, is all about celebrating the 100,000th SchoolBag milestone! It is all very exciting - the team and I are incredibly happy and proud of this achievement and we are so grateful to everyone who has helped us get this far.
"Now we need to focus on the future and we look forward to increasing this amount so that we can continue to give more underprivileged children around the world the resources they need to get an improved education."
Last year saw a big leap in the amount of SchoolBags the charity were able to distribute, through the most generous of donations received by unicyclist, Ed Pratt, during the American leg of his world unicycle tour.
The staggering £280,000 donation by a Texan supporter increased Ed's fundraising total to £301,000 enabling over 15,000 SchoolBags to be funded.
It is a SchoolBag funded by Ed that is the 100,000th one which makes it even more fitting that his incredible feat of being the first person to ever unicycle around the world, has in turn helped the charity reach such a significant total.
Jimmy Lama, Executive Director, Helambu Education and Livelihood Partnership (HELP), said: "It is a great honour that we were able to distribute the 100,000th SchoolBag. We have been working in partnership with School in a Bag for six years now and have given over 16,000 children a SchoolBag, which are much-needed in Nepal, particularly following the catastrophic earthquakes in 2015."
School in a Bag has an exciting year ahead with new corporate partners on-board, strengthening overseas affiliations and furthering work with international donors alongside lots of the charity's regular events, including its biggest annual fundraiser, Home Farm Fest, held at the charity HQ in Chilthorne Domer on June 7-9.
School in a Bag is now working towards the next 100,000 SchoolBags.
To be a part of this, and to fund your own SchoolBag, please visit the charity's website: www.schoolinabag.org, or to keep up with the latest goings-on, follow on Facebook: www.facebook.com/schoolinabag .
Tags:
News.