YEOVIL NEWS: Emergency temporary accommodation officially opens in Yeovil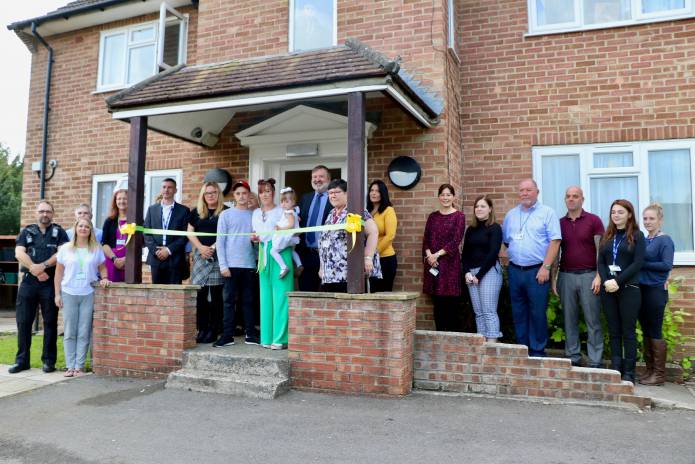 A REFURBISHED and revamped temporary accommodation unit in Yeovil has been officially opened by South Somerset District Council to use for people who are homeless.
Fair View – formerly Liberty House – is a purpose built unit comprising of 11 self-contained bedsits with communal kitchen and social areas. The site also benefits from on-site staff daily, Monday to Friday, to provide additional support to residents.
Bournemouth Churches Housing Association (BCHA) has been managing the unit for the council since April. It has been well used, accommodating a large number of residents and there has been very few periods when rooms have been vacant. 
Since managing the unit, BCHA has made improvements to the building and were lucky enough to secure funding and support from Barclays Bank employees who helped improve the garden areas and redecorate the play area whilst also providing some financial advice to residents.
Nicola Greenfield, head of health, wellbeing and tenancy sustainment at BCHA said, "The work done by the district council, BCHA and Barclays Bank has transformed the building to one which is now welcoming and warm for those who need to stay."
The staff and residents have been grateful for generous donations from the public and local businesses to equip the house. Whilst some fixtures and fittings were in situ from the start, donations of furniture, bedding, towels, curtains, toys and books to name just some, have been very welcomed.
The council's leader, Cllr Val Keitch, who is also the authority's housing spokesman, added: "This building has previously been used to accommodate and support other groups of vulnerable people but closed following SCC funding cuts.
"We are delighted that it has been reopened and that the district council has been able to put it to such good use.
"Following the Homeless Reduction Act which came into force in April 2018, demand for temporary accommodation has increased and we are very keen to use this property to allow people time to get "tenancy ready" for more permanent accommodation."
To find out more information about SSDC's duty to prevent and relieve homelessness in South Somerset and also to find out if you are eligible for assistance, please visit www.southsomerset.gov.uk/homelessness.
PHOTO: South Somerset District Council and Bournemouth Churches Housing Association staff, partner agencies and Fairview residents attend the official opening of the house. Photo courtesy of: Barbie Markey Photography.
Tags:
News.