YEOVIL AREA NEWS: Villagers evacuated after oil tank fire spreads to homes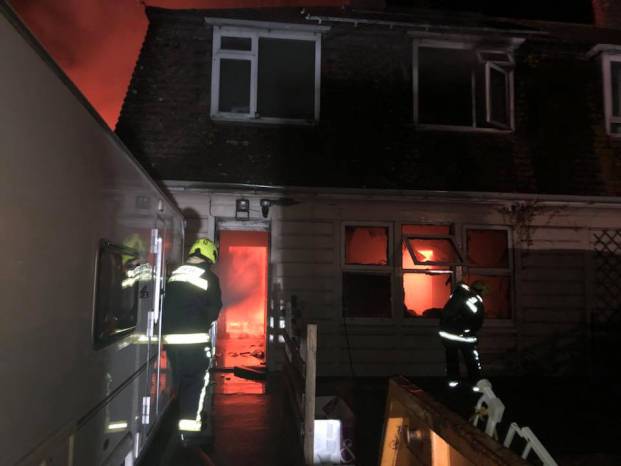 THE cause of a fire in a heating oil tank in the back garden of a property in a village on the outskirts of Yeovil - which spread to nearby homes and forced neighbours to be evacuated - is under investigation.
People were evacuated from their homes over safety fears and a village hall was turned into a relief centre as the Devon and Somerset Fire and Rescue Service got to grips with the incident.
The alarm was raised at just after 11pm on Monday (July 23, 2018) to the problem at an address in Little Sammons, Chilthorne Domer.
One fire engine from Yeovil was initially mobilised and due to the number of calls being received from people, a second crew was sent out.
It was not long before a further three fire engines from Yeovil and Martock along with a water carrier from Bridgwater were called out due to the severity of the incident.
Officers found a heating oil tank on fire between two properties and the flames were beginning to spread to both homes.
With minutes officers had called out another three crews – to make eight in total – from Crewkerne, Sherborne and Somerton.
Firefighters could not stop the fire from escalating as two end-terraced properties became well alight and crews began an evacuation of other nearby homes due to an acetylene cylinder involved in the fire.
Police were called out to help with the evacuation of nearby residents, while an aerial ladder platform was mobilised from Taunton.
A spokesman for Devon and Somerset Fire and Rescue Service said: "The fire started at the rear of the properties involving a heating oil tank.
"Numerous LPG cylinders, two acetylene cylinders and one oxygen cylinder are believed to have been involved in the fire.
"A plan was formulated and phased evacuation was conducted by police, while the village hall has been used as a safe refuge."
Further support arrived from Burnham-on-Sea and Taunton and by 1.25am crews remained on firefighting operations and creating a "fire break" to stop the incident escalating further.
By 2.40am the crews were continuing to damp down hot spots in the roof space of the properties, while relief firefighters from Castle Cary and Chard arrived at the scene.
"The cause of the fire is under investigation," added the spokesman.
PHOTO: Courtesy of Devon and Somerset Fire and Rescue Service - Yeovil Fire Station.
Tags:
News.