YEOVIL NEWS: Celebrating community life – the new Yeovil Press newspaper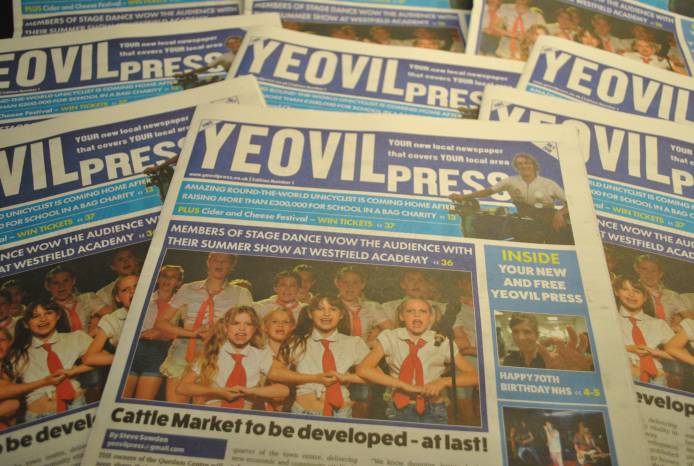 THE first-ever edition of the new Yeovil Press community newspaper is now available to be picked-up for FREE from outlets in and around the town.
The new publication – which will come out every other month - has been well-supported by local groups and businesses with advertising and is packed with news and photos from Yeovil and the immediate surrounding area.
Steve Sowden, of Yeovil Press, said: "This new community newspaper is to try and highlight the positive aspects of local life.
"I'm not brushing the negative parts of our community under the carpet, but I really want to celebrate what is great about our area and to try, the things that might not always get the publicity they deserve, and put the smile back on our town."
The 48-page publication is currently available in the main Tesco store in Yeovil and the Morrisons store, as well as the Octagon Theatre, the Westlands Entertainment Venue and the St Margaret's Hospice Home Store at the Old Cinema. Other outlets will be added to that list in the next few days.
Included in the first-ever edition of Yeovil Press – which can be picked-up for free – is an 8-page photo special on the Year 11 Proms featuring students from Buckler's Mead Academy, Preston School, Stanchester Academy and Westfield Academy.
There are photo features on last weekend's Yeovil Show and the recent Home Farm Festival in aid of School in a Bag, the Air Day at RNAS Yeovilton, Castaway Theatre Group's production of Peter Pan, and a summer show from the Stage Dance group.
There are features on the fantastic Yeovil Amateur Operatic Society and Ham Hill Cider, plus a look-back at the official opening of the new bowls club and cricket club pavilion at Westlands and an open day at Sutton Bingham Sailing Club.
Photo specials from the recent South Petherton Folk Festival and Montacute Carnival are also included in this first edition.
We celebrate community events such as a Snakebyte and Cider event at the Quicksilver Mail which raised a lot of money for South Somerset Mind and St Margaret's Somerset Hospice, plus the fact that 8,500 charity cream teas were boxed up and sent out from Yeovil.
And we congratulate and say "thank you" to the NHS on its 70th birthday.
The next edition of Yeovil Press will be out in September.
Tags:
News.