YEOVIL NEWS: Pick up your FREE copy of Home Farm Fest Press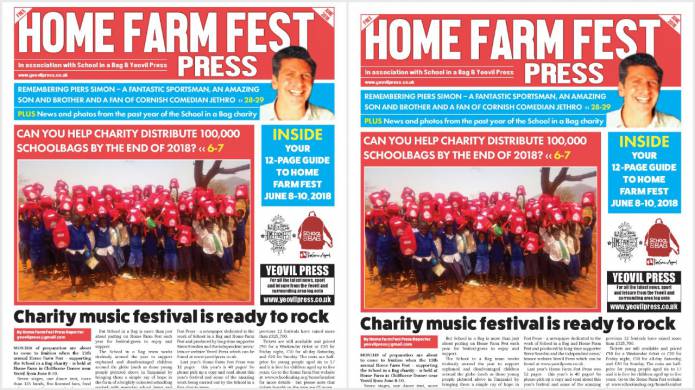 PEOPLE are being invited to pick-up a copy of a free publication which has come out to help promote this weekend's Home Farm Fest and raise awareness of the School in a Bag charity.
Home Farm Fest Press is available in various outlets – the main Tesco store in Yeovil town centre, Asda, Waterloo Music, Octagon Theatre, Morrisons, Quicksilver Mail and the Westlands Yeovil venue – and is free for people to take away.
The 40-page publication is packed with news and photos about the charity – which provides simple but vital school equipment to children in poor countries around the world – and a preview of the Home Farm Festival which is taking place at Home Farm in Chilthorne Domer from Friday, June 8, 2018, through to Sunday, June 10, 2018.
The paper will also obviously be available for festival-goers at Home Farm which has become the main fundraising event of the year for the charity.
The publication has been produced by Steve Sowden, of the independent Yeovil Press news and leisure website, and follows on from the successful Home Farm Fest Press 2017 he brought out for last year's festival.
PHOTO - RIGHT: Steve Sowden of Yeovil Press at a previous Home Farm Fest at Chilthorne Domer.
Steve said: "It is not until you sit down and look at what the charity has been doing in the past year that you begin to appreciate the huge amount of work which has been achieved by School in a Bag chief executive Luke Simon and his team of Zoe Fox, Charlotte Pike, Lis Foy and Hannah Gauntlett – plus a loyal band of volunteers including the fantastic support of Luke's parents Henry and Celia Simon – over the past 12 months.
"We hope this year's Home Farm Fest Press does some justice to their efforts – although we know we could have done with more pages to have included everything and to thank everyone for their support of a charity which gives hope to the futures of children around the globe.
"Those that know me will know that the Piers Simon Appeal and its School in a Bag initiative are very close to my heart.
"I was working as a journalist on the former Yeovil Express newspaper back in 2004 when the Asian Tsunami struck on Boxing Day and killed up to 280,000 people in 14 countries.
"One of those victims was Piers Simon, 33, a former Preston School and Yeovil College student, who I had known as a pal during my school and college days.
"It really was one of those moments in life where you "remember where you were and what you were doing when you heard the news." I am now coming up to 30 years in journalism and those dark and terribly sad days of December 2004 are the most difficult I have had to deal with in my professional career.
But out of the tragedy has grown the Piers Simon Appeal and the School in a Bag initiative – which something I am sure Piers would be mighty proud of. It is a lasting legacy to the name of someone who was so well-liked and much-loved by so many people."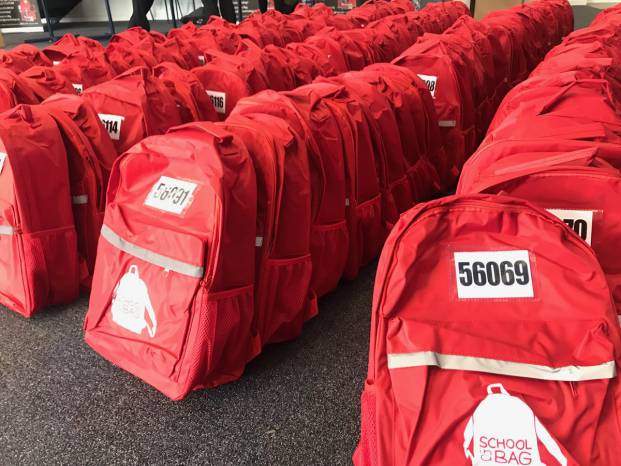 Steve added: "Producing the 2018 edition of Home Farm Fest Press has again been a pleasure and there are many people who I would like to thank for their support.
"I would like to thank the advertisers – Radio Cabs, Quedam Shopping Centre, the Westlands Yeovil venue, Quicksilver Mail, Texas Rocks, Ham Hill Cider, Old Mill, Gareth Webb & Co, Horizon: 51, Waterloo Music, GSL Events, Preston School, A. J. Wakely & Sons, Trade Solutions, Jones Building Group, Yeovil Chamber of Commerce, Broomhead & Saul, Testical Festival, Yeovil Guitars, Rock and Road, and Red Berry Recruitment. Without their backing the Home Farm Fest Press would not happen.
"I would like to thank freelance photographer Christine Jones for her wonderful support and many of the photos included in this publication along with those supplied by the School in a Bag team, plus special thanks to James Healey, of JRH Media, for his work and enthusiasm in putting the paper together.
"Finally, I would like to thank those outlets in and around Yeovil for stocking the Home Farm Fest Press 2018."
The 13th annual Home Farm Fest includes seven stages, one dance tent, more than 135 bands, five licensed bars, food aplenty, a market area, plus lots more for all the family – Home Farm Fest 2018 promises to be the best-ever yet.
Tickets can be bought on each day of the festival and priced £25 for Friday night, £35 for all-day Saturday, and £25 for Sunday. The costs are half-price for young people aged six to 17 and it is free for children aged up to five years.
Go to the Home Farm Fest website at www.schoolinabag.org/homefarmfest for more details - while there are also weekender tickets available.
Tags:
News.