YEOVIL NEWS: Former Mayor resigns from Yeovil Town Council after being told to STOP supporting his chosen charities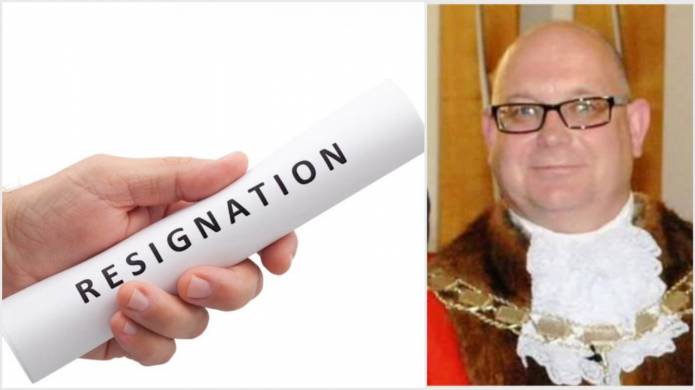 A FORMER Mayor has resigned from the town council he had served after being told he could no longer support the charities he had spent the past two years raising more than £60,000 for.
Darren Shutler, who has just finished a two-year term of office as Mayor of Yeovil, was left hugely disappointed when he was instructed by the town council that he had to sever all links with his nominated charities – St Margaret's Somerset Hospice and the School in a Bag initiative – with immediate effect.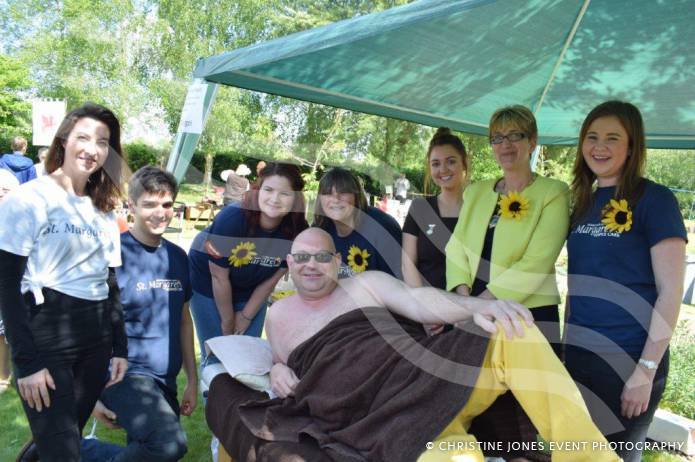 It meant that after supporting those two good causes with a stack of fundraising events between 2016-18, in which a massive £63,328.34 had been raised, he would have to stop doing so – much to Mr Shutler's dismay.
PHOTO - RIGHT: Darren Shutler did a charity chest wax at St Margaret's Hospice's annual fete in 2017.
He and his wife Anna had already planned on volunteering for the two charities once their Mayoral term had come to an end and they wanted to keep raising money.
But they were left stunned when they received a letter from Yeovil Town Council to say that the fundraising had to stop.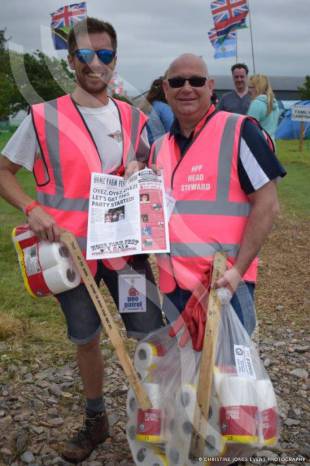 "Traditionally, once the Mayor's term of office ceases, all fundraising efforts for the Mayor's chosen charities also ceases – as to continue could potentially impinge on the fundraising efforts of the current Mayor," said the town council letter.
PHOTO - RIGHT: Darren Shutler (right) has volunteered to help clean the toilets during the annual Home Farm Fest weekend in aid of the School in a Bag charity.
Mr Shutler handed over the Mayoral chain of office earlier this month to Cllr David Recardo who has named his charities for the forthcoming year as the Yeovil Freewheelers and the Yeovil Hospital Charity.
The council has told Mr Shutler that he should cancel a charity gin night planned for October after holding two successful similar events during his tenure as Mayor, while it has also incorrectly suggested that he was involved in organising a charity ball also planned for later this year.
"Councillors have asked that you CANCEL these events," said the council's letter to Mr Shutler.
But Mr Shutler has responded by tendering his resignation – which has been accepted – as he felt obliged to continue his support of St Margaret's Hospice and School in a Bag.
"During my time of office my intention to continue to work with these charities after leaving office as Mayor was known," he said. "Prior to this it had never been raised as an issue and on examination of the Yeovil Town Council civic guide, there is no evidence that this would be required," said Mr Shutler.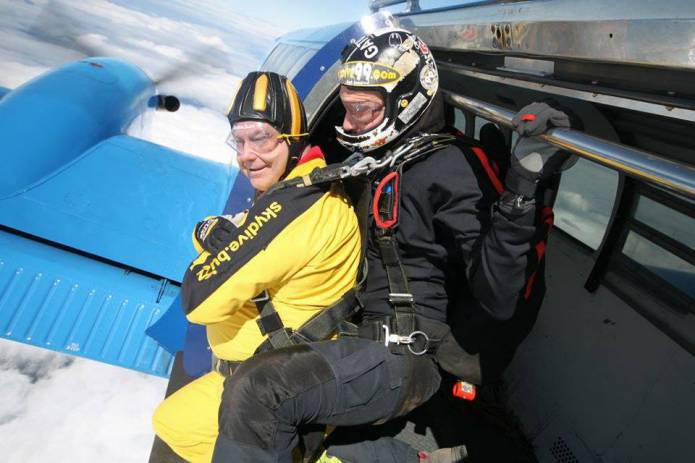 "In essence the charity gin night I am holding is as a private individual and the charity ball talked about is something I have no direct involvement with. I am not proposing to cancel the gin night and I cannot cancel the charity ball."
PHOTO - RIGHT: Darren Shutler about to fall out of the sky in a charity skydive.
Mr Shutler added: "Serving as Mayor of Yeovil has been both an honour and a privilege and I hope I can allay any possible concerns councillors may have and it is my wish that the people of Yeovil will support our new Mayor and his chosen charities in the same way they supported me.
"On a personal note, I am sad that some councillors seem to have tried to both misrepresent my actions and curb my right to support my chosen charities now I have left office.
"This leaves me with one course of action only and that is to tender my resignation as a councillor at Yeovil Town Council with immediate action."
It is understood that South Somerset District Council has been notified of Mr Shutler's resignation so that a by-election process can be started in order to fill the vacancy on the town council.
More on this story later.
Tags:
News.