YEOVIL NEWS: Posthumous award made in memory of Preston School's legendary teacher Jeff Stone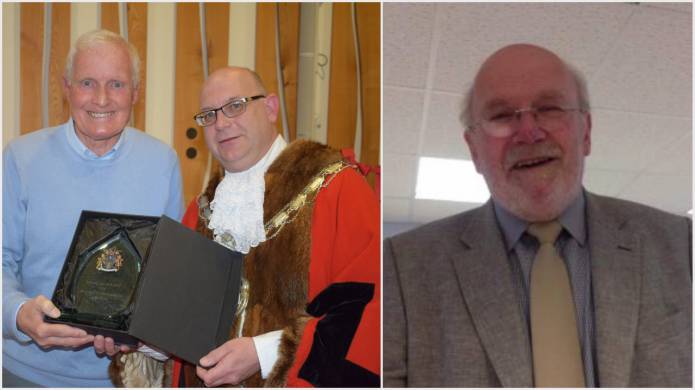 A YEAR on following the sudden and untimely death of one of Yeovil's most respected and well-liked teachers – a posthumous award has been made in his honour.
It was back on May 1, 2017, that Jeff Stone – who had spent nearly 50 years teaching at Preston School in Yeovil – passed away.
Twelve months on and the outgoing Mayor of Yeovil, Cllr Darren Shutler, presented an award to his family in recognition of Mr Stone's contribution to education in the town.
Mr Stone, 70, had been teaching at Preston School for nearly 50 years and was, without question, one of the most popular teachers the school had ever had, if not, the most popular.
Colin Stone, Jeff Stone's brother, who received the award from Cllr Shutler, said: "Jeff loved Preston School and Preston School loved Jeff.
"There was nobody like Jeff and there will be nobody like Jeff in the future. I miss him terribly – the whole family misses him."
There was standing room only last year at St John's Church for the funeral service for Mr Stone as students from nearly five decades united as one "class" along with teaching colleagues past and present and his beloved family.
Colin said: "Jeff's funeral was very sad, but at the same time very uplifting. It was a wonderful tribute to Jeff."
He said that the family had taken great comfort from the fact that there was so much respect and love for Mr Stone – they had not particularly realised this until after he had gone.
And the family was not really aware of his glorious quirks of teaching which were so adored by students – whether it being a hammer smashing against a filing cabinet, flying blackboard rubbers, sweets taken off a pupil, pencil cases being thrown out of windows or him spontaneously breaking out into song.
But they had taken great strength from the stories they had heard from Mr Stone's students and fellow teachers and that "everywhere you go in Yeovil" somebody knew him.
Cllr Shutler said it was "unusual" to present a posthumous Mayor's Award, but felt that it was only "fitting" that an award should be made in memory of such a well-regarded teacher.
Mr Stone will always be deeply missed by his family and the corridors of Preston School will never reverberate to the sound of his unmistakable footsteps, his singing and hearty chat.
But Mr Stone's legacy will live on in everyone who had the privilege to meet him and he will always be regarded as the Godfather of Preston School.
The school principal, Gregg Morrison, was in attendance at the annual town meeting on Tuesday (May 1, 2018) when the award was made and the pride was etched over his face as Preston's Mr Stone was remembered.
PHOTO – TOP: The outgoing Mayor of Yeovil, Cllr Darren Shulter, presents the Mayor's Special Award to Colin Stone posthumously in memory of Preston School teacher Jeff Stone (right) who died last year.
Tags:
News.