YEOVIL NEWS: New Mayor is honoured to represent the town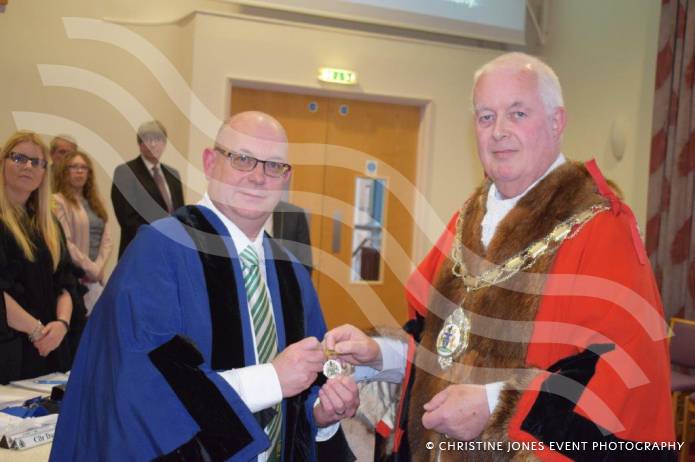 THE new Mayor of Yeovil, Cllr David Recardo, has said he is looking forward to the next 12 months representing the town.
Cllr Recardo took over the civic role from his predecessor, Cllr Darren Shutler, during Yeovil Town Council's annual town meeting on Tuesday (May 1, 2018) evening at the Baptist Church.
"It is an honour and privilege to be asked to represent our market town," said Cllr Recardo.
He paid tribute to the outgoing Mayor on all his efforts at representing the town at civic events in Somerset and Dorset.
And the new Mayor added: "I will continue to promote our town and in doing so attract more visitors and businesses to Yeovil."
PHOTO - TOP: The new Mayor of Yeovil, Cllr David Recardo (right), with the outgoing Mayor, Cllr Darren Shutler.
PHOTO - RIGHT: The Mayor of Yeovil, Cllr David Recardo, and his wife Yvonne, the new Mayoress.
He also put out an open invitation to anyone organising an event or a local business to get in touch.
"If the date is spare in the diary then I will come along and support you," he said. "Everyone in our town is my priority and valued."
Cllr Recardo said he would be looking to engage more with schools and young people in the town in the months ahead.
He announced that Jim Pearce would continue to act as the Mayor's Chaplain, while brother and sister Evalina and William Catchpool, of Yeovil Girls' Brigade and Yeovil Boys Brigade, will act as the Mayor's Cadets for the next 12 months.
Cllr Recardo said that his two chosen charities would be the Yeovil Hospital Charity and Yeovil Freewheelers and representatives of the two groups, Sarah Cherry and Martin Surrey respectively, were on hand to explain more about their organisations.
Sarah said that the Mayor's fundraising efforts would go towards the children's ward at the hospital and buying more things for the young patients and making it more child friendly.
While Martin said that the Freewheelers, which provides a unique out-of-hours free courier service between different hospitals and patients in their homes in South Somerset and North Dorset, was celebrating its 40th anniversary and could do with a new motorbike.
Cllr Recardo added that he was delighted that, after a bit of coaxing, his wife Yvonne had agreed to accept the role of Mayoress.
Cllr Evie Potts-Jones was elected as the new Deputy Mayor of Yeovil and will deputise at events in Cllr Recardo's absence.
Tags:
News.