YEOVIL NEWS: Amazing two years of fundraising for outgoing Mayor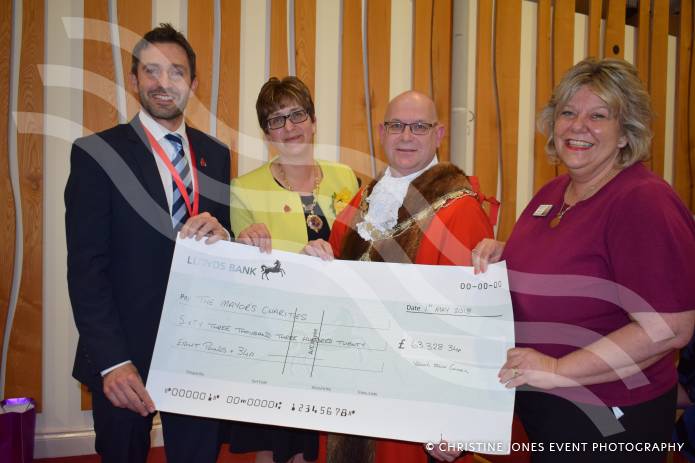 THE outgoing Mayor of Yeovil, Cllr Darren Shutler, has thanked everyone who supported him during his two years of office of fundraising which raised a total of nearly £63,500 for the St Margaret's Somerset Hospice and School in a Bag charities.
Cllr Shutler, who handed over the mayoral chain of office to Cllr David Recardo during the annual town meeting on Tuesday (May 1, 2018), announced that his final grand total for his two chosen charities was a fantastic £63,328.34.
His 2017-18 term as Mayor had led to a whopping £31,753.43 being raised with a string of successful fundraising events held during the year.
Cllr Shutler had said it had been a huge privilege to represent "this town, our town, my town" over the past two years and that "we can all be proud of where we live."
He thanked everyone who had supported him over the past two years – especially his wife Anna, who had been "his rock" and such a driving force behind the fundraising.
"We have had the chance to work with two great charities over the past couple of years and we will continue to support them in the future."
Cllr Shutler and his wife will be at St Margaret's annual fete at the Yeovil hospice on Saturday, May 12, 2018, while they will also be supporting School in a Bag's Home Farm Fest fundraising weekend from June 8-10, 2018.
They have been raising money to help support a project backed by the School in a Bag charity to build a library and a café for a school in Nepal. They will be visiting the school later this year.
And Cllr Shutler said: "I can't thank people enough for their support because without them we couldn't have done what we have done."
Clare Gallie, director of fundraising and marketing for St Margaret's, thanked Cllr Shutler and his wife for their "hard work, support and innovative fundraising ideas."
"Thank you from the bottom of our hearts for all you have done," she said.
And she quipped: "I don't think there is anybody in Somerset who hasn't been asked to donate a prize to one of their raffles."
Luke Simon, chief executive of the School in a Bag charity based at Chilthorne Domer, said: "Darren and Anna have left a lasting legacy with the library at the school in Nepal and we're delighted that they are going to go and officially open it later this year."
PHOTO: The outgoing Mayor of Yeovil, Cllr Darren Shutler (centre right), with his wife Anna (centre left) and the chief executive of School in a Bag, Luke Simon, and St Margaret Somerset Hospice's director of fundraising and marketing Clare Gallie.
Tags:
News.