LEISURE: Antiques Call My Bluff provides vintage entertainment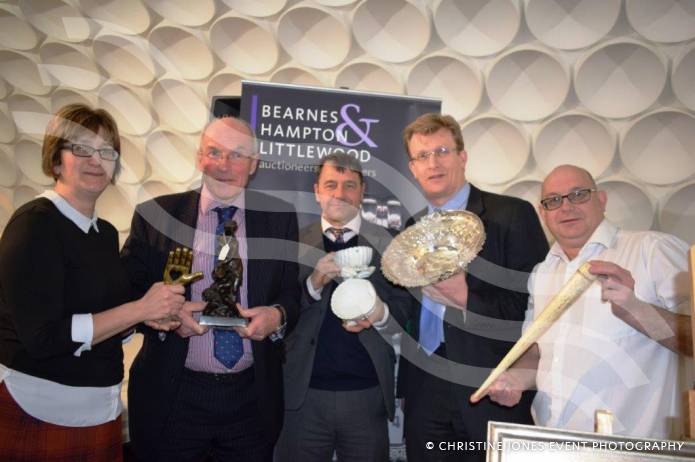 THE Mayor of Yeovil, Cllr Darren Shutler, has thanked everyone who attended his fundraising Antiques Call My Bluff which raised nearly £500 for St Margaret's Somerset Hospice and the School in a Bag charity.
Experts from Exeter-based Bearnes Hampton and Littlewood Auctioneers and Valuers attended the event held at the hospice's Old Cinema furniture store in Yeovil and showed the audience ten different antiquities each with three different valuations and stories. The audience then had to decide which expert was telling the truth.
While some objects had a valuation of around £100 others were valued at up to £8,000.
The Mayor said: "It was another very amusing and enjoyable night. It's the second time we've held this event and it always proves very popular.
"Many thanks to the chaps from Bearnes Hampton and Littlewood – they really do make it a fun night."
PHOTO: The Mayor of Yeovil, Cllr Darren Shutler (right) and the Mayoress, Anna Shutler (left), with antiques experts (from left) Chris Hampton, Nic Saintey and Brian Goodison-Blanks. Photo: Christine Jones.
Tags:
Leisure.