HORSE RACING: Bryony Frost looks for gold medal success at Cheltenham – the Olympics of racing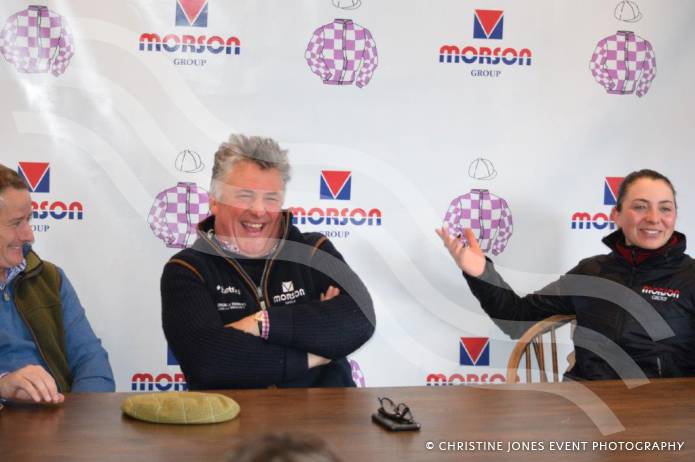 JOCKEY Bryony Frost is hoping that fairy tales come true when she climbs on board Black Corton at next month's Cheltenham Festival.
Frost has described the festival as the "Olympics of the horse racing world" and she will be looking to gain a second successive 'gold medal' following on from her brilliant first place ride last year on Pacha Du Polder.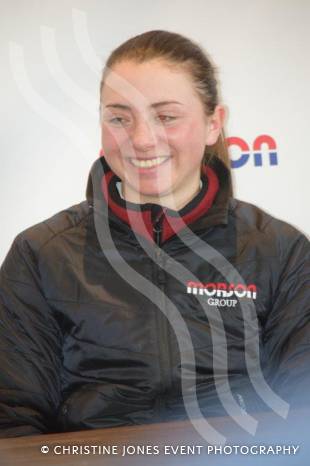 She will be going all out to bring home success for trainer Paul Nicholls on the highly-fancied Black Corton in the RSA Novices' Chase on Wednesday, March 14, 2018.
Frost and Black Corton have already enjoyed plenty of success and they will now be going all out to add Cheltenham glory to their record.
"Everyone likes a fairy tale and to win the RSA would be a fairy tale," she said during an open day at trainer Paul Nicholls' yard in Ditcheat, Somerset, along with clients of sponsors Morson Group hosted by chief executive Ged Mason on Monday (February 26, 2018).
PHOTO - TOP: Bryony Frost with trainer Paul Nicholls (centre) and bloodstock agent Tom Malone (left).
PHOTO - RIGHT: Jockey Bryony Frost.
She said that Black Corton was one of the "talking points of the festival" and "so he should."
Frost said she would also love to follow in the footsteps of father Jimmy Frost and ride in the Grand National which he won back in 1989 on Little Polvier.
She said that horse racing was her world and that her dad could recall each stride of his Grand National win "as if it was yesterday."
"I love horse racing, but if I didn't have Paul Nicholls I wouldn't be where I am today," she said.
Frost hit the headlines at last year's Cheltenham Festival when she won the St James' Place Foxhunter Challenge Cup on Pacha Du Polder with another of Nicholls' horses, Wonderful Charm, in second place.
And she has gone on to enjoy further success in a "whirlwind" career since turning professional in July 2017 to become one of the most popular jockeys on the circuit – landing her first grade one success on Black Corton in the Kauto Star Novices' Chase at Kempton on Boxing Day.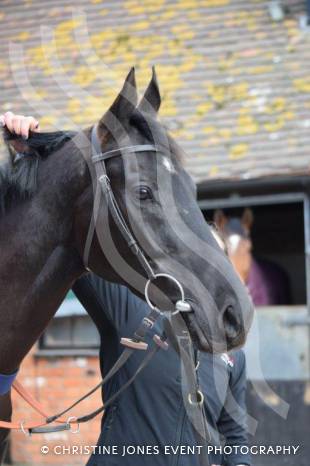 "I love it," she said. "I'm always looking to improve and being successful for your horse – that is the way I work."
PHOTO - RIGHT: Black Corton - a good bet for Cheltenham Festival success.
One thing she does not necessarily like to talk about too much is gender and overcoming the hurdles presented by being a female jockey in a male-dominated sport.
"I can't change the fact that I'm a girl," she said, but added that she could always change her ability and improve with work and experience.
And trainer Nicholls added: "If they (a jockey) are good enough, they will get the ride – whether they are male or female."
But Frost would – clearly – love to add the Grand National to her blossoming CV and provide a little bit of "girl power" to the sport.
Just 15 female jockeys have ridden in the 30-fence National and only five have completed the famous course and Frost would obviously be delighted to join that unique club of Geraldine Rees (1982), Rosemary Henderson (1994), Carrie Ford (2005), Nina Carberry (2006, 2010-12, 2015-16) and Katie Walsh (2012-14, 2016-17).
But first Frost has the Cheltenham Festival to contend with and possible success with Black Corton – you can't help but think that this partnership of jockey and horse is going to be a real force.
Tags:
Sport.