SOMERSET NEWS: Great British Bake Off favourite Val wants to raise £7k for Yeovil Hospital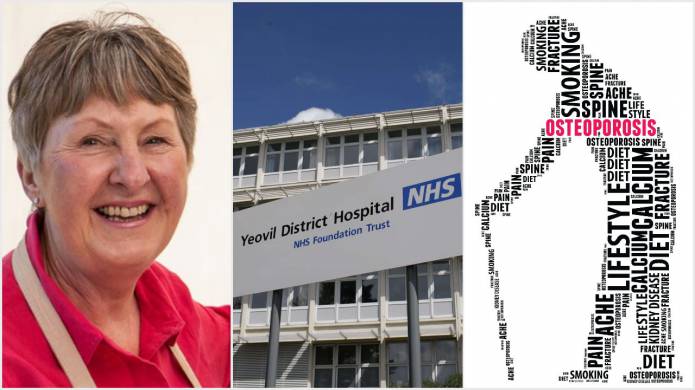 A FORMER contestant on the hit TV show Great British Bake Off has launched a £7,000 appeal to raise money for a piece of medical equipment for Yeovil District Hospital which could help people living with the bone disease osteoporosis.
Former headteacher Val Stones, who lives near Yeovil, was a firm favourite among viewers of the 2016 series of the GBBO before she was finally asked to leave by Mary Berry and Paul Hollywood after five weeks.
But now Val, who has become something of a local celebrity since GBBO and is a regular visitor to local schools to pass on her baking tips, is looking forward to mixing and stirring a new challenge she has set herself - raising £7,000 for Yeovil Hospital's osteoporosis department.
"People may remember me from Great British Bake Off as the cake whisperer or remember me exercising as I baked," she said. "What folk don't know is that I have osteoporosis which is an incurable disease, but it is manageable.
"I broke my wrist 14 years ago and was diagnosed with osteoporosis, a disease where bones become weak and fragile because they contain less calcium.
"Over the years my bones have become weaker. I had a fall, put my hands out to save myself and broke my right humerus and my left hand."
Val said that Yeovil Hospital gave her excellent care and plated and pinned her broken bones for them to heal and a year later she was becoming a firm favourite on our TV screens in GBBO.
But although her TV days of GBBO 2016 are long gone, she still lives with osteoporosis.
"I have to take calcium supplements and have had infusions, a bit like a blood transfusion, of a specific drug that helps attract calcium to my bones," she said.
PHOTO - RIGHT: Val Stones.
"Every other year I have a bone densitometry scan known as a DXA for short. The scanner can see into bones and look at the structure and it can see whether the bones are improved or deteriorating. This information guides the care needed by the patient."
But Val added: "When I visited the hospital for my DXA scan I was told that there is a new piece of software equipment that is able to look deeper into bones and aid the prediction of probable breaks – but the hospital didn't have the £7,000 to buy it.
"I would like you to fund raise for this piece of equipment it will help me and the many other osteoporosis sufferers in Somerset."
To help Val and her fundraising – go to her online sponsorship page at https://www.justgiving.com/fundraising/val-stones .
Tags:
News.