GLOVERS NEWS: Striker Zoko joins exclusive 100-Club and 30-Club at Yeovil Town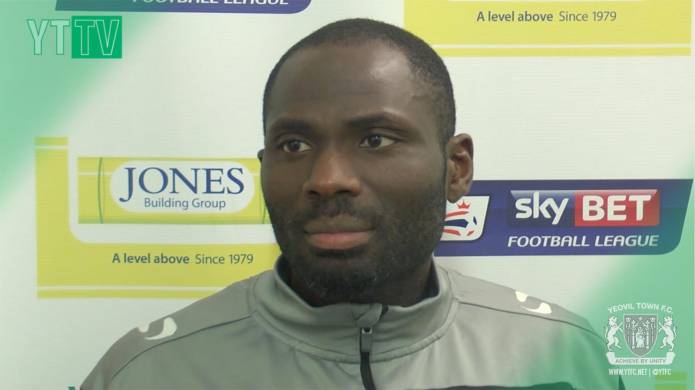 YEOVIL Town striker Francois Zoko has become the latest member of not one but two exclusive player clubs at Huish Park in recent weeks.
The 34-year-old veteran from the Ivory Coast became just the 26th member of the 100-Club at Huish Park on Tuesday (January 9, 2018) night when he came on as a second-half substitute in the EFL Checkatrade Trophy match with Forest Green Rovers to chalk up his 100th appearance for the Glovers.
Only 25 other players have made 100 or more appearances in all competitions for the Glovers since Yeovil Town joined the Football League in the summer of 2003.
While the goal he scored on December 23, 2017, in the 3-1 League Two victory over Exeter City saw him take his tally to 30 for the Glovers and he is now only the 12th member of the 30-Club – players to have scored 30 or more goals for Yeovil Town since the club moved to Huish Park in June 1990.
Yeovil Town's Football League 100-Club XI – players to have appeared in 100 or more games for the Glovers as a Football League club: Nathan Smith 287*; Terry Skiverton 218 (383 in total including non-league games); Nathan Jones 211; Luke Ayling 185; Terrell Forbes 180; Paul Terry 154; Chris Weale 148 (236 in total); Ed Upson 148; Kevin Gall 143 (159 in total); Gavin Williams 142 (188 in total); Darren Way 141 (274 in total); Kevin Dawson 141; Artur Krysiak 141*; Lee Johnson 135 (229 in total); James Hayter 135; Joe Edwards 132; Arron Davies 124; Craig Alcock 121; Andy Welsh 118; Ryan Dickson 113*; Byron Webster 112; Andy Lindegaard 105 (197 in total); Sam Foley 105; Scott Guyett 103; Matt Dolan 103; Francois Zoko 100*. The * denotes still playing for Yeovil Town.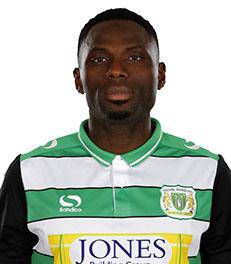 Yeovil Town players to have scored 30 goals for the Glovers since the club moved to Huish Park in June 1990: Warren Patmore 140 goals; Mickey Spencer 82; Paul Wilson 56; Paul Wilson 45; Terry Skiverton 44; Owen Pickard 37; Darren Way 36; Gavin Williams 34; Howard Forinton 31; Dean Birkby 31; Kevin Gall 30; Francois Zoko 30*. The * denotes still playing for Yeovil.
Zoko is now also – amazingly – second in the all-time highest goalscoring chart for Yeovil Town with goals scored for the Glovers as a Football League club since 2003.
He has a long way to go, however, to take over top spot as he trails current leader Phil Jevons by 15.
Yeovil Town top ten goalscorers as a Football League club since 2003: Phil Jevons 45; Francois Zoko 30*; James Hayter 29; Gavin Williams 28; Arron Davies 27; Dean Bowditch 25; Andy Williams 25; Paddy Madden 23; Terry Skiverton 22; Darren Way 20. The * denotes still playing for Yeovil.
There are only four players to appear in all those lists – Terry Skiverton; Darren Way; Gavin Williams and Francois Zoko. Now that is a very exclusive Yeovil Town club.
The veteran striker has quietly, but surely and effectively, been writing himself into the Yeovil Town history books. A goal or two in the forthcoming FA Cup Fourth Round tie with Manchester United at Huish Park would put him into legendary status.
YEOVIL Town coverage is sponsored on this website by the Glovers Trust.  The Yeovil Town Supporters' Society Ltd – known as the Glovers Trust – is a democratic, not for profit organisation, committed to giving supporters a strong unified voice in the decision making process at Yeovil Town FC and strengthening the links between the club and the community that it serves.
Adult membership to join the Glovers Trust is just £10 per year, while it is just £1 per year for those aged Under-16; and £100 per year for a corporate membership.
For more details – go to the Glovers' Trust website at http://www.glovers-trust.co.uk/ .
Tags:
Yeovil Town FC.